White Pearl Collar Necklaces with Adjustable Chain
White pearl collar necklaces with adjustable chain. Triple stand pearl necklaces enhance one's beauty.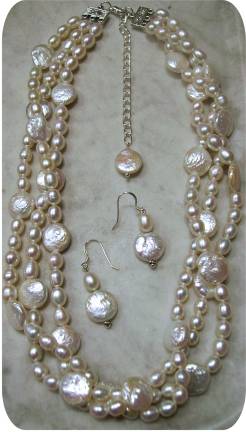 Twisted up close to your neck with a high necklace or untwisted and lengthened to the full length with the chain extension...either way....this necklace is super!
It's just pretty...that's what!
Enhances your beauty without stealing the show.
Perfect matching dangling earrings.
So far, this is my favorite design here on KariPearls.
Yes, another "KariPearls Original."
Triple Strand Coin and Oval Pearl Set Details
Length: 18"-21.5"--Great length options
Color: White--Natural color
Size: 6-12mm pearls--Eye-catching size
Shape: Coin and Oval Pearls--Shape of coins and ovals
Luster: Medium--Lots of great shine
Clasp: Adjustable---Triple clasp with Coin pearl
Earrings: Matching Dangle--Sterling Silver
Sorry, this style is no longer available.

Natural pearl jewelry for sale here.
Go to main White Pearls after White Pearl Collar Necklaces
Photos and Text © by www.karipearls.com