White Pearl Neckace & Earrings
White Pearl: "Beep Beep Bop"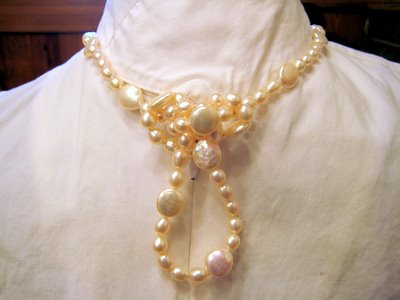 This white pearl necklace begged to be created one day as I gazed at my hanks of pearls.
"Beep Beep Bop", that's the name, Sarah, my sixteen year old, suggested for this necklace. Yes, it fit perfectly...there are "beeps" or rice pearls and then a "bop" or coin pearl.
That name also gives a hint of the wide range of possibilities for this necklace. It would be gorgeous bridal pearl jewelry, great with casual wear (I'm a fan of wearing pearls with blue jeans) or be loads of fun to wear swing dancing. (Last night, Sarah was showing me some new steps she's learned, so I have swing dancing on my mind...)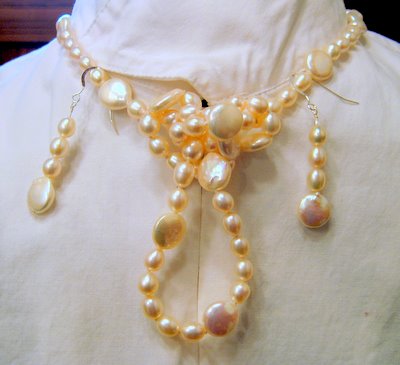 This is one set that won't lie around idle in your jewelry box. You'll be grabbing it constantly to wear everywhere. (I wore one last night to our son's college awards banquet. It looked super with my silk cranberry colored jacket.)
At 30 inches, if your neck is small it could be wrapped around twice. I don't have a photo of that possibility.
I was also wearing one of these fun creations at a prayer seminar I recently attended and since I'm what I call a "hopeless giver", yes, I gave my set away to the speaker I enjoyed the most, Ruth Schngrin.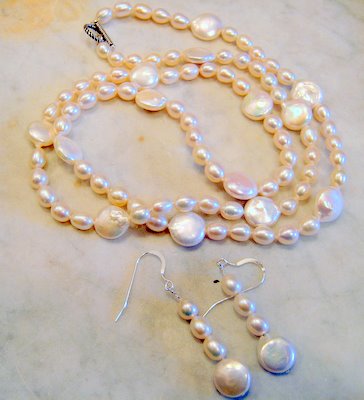 Why, "hopeless"? Because I'm always giving my pearls away, it is hopeless for me to try and stop this habit.
I noticed that Ruth was wearing a set of jewelry that perfectly matched her dress. That showed me she would appreciate my pearls and enjoy them. So when I asked if she had pierced earrings and she said, "No", at first I thought I'd just give the necklace, but she quickly added, "I always remake them for non-pierced ears."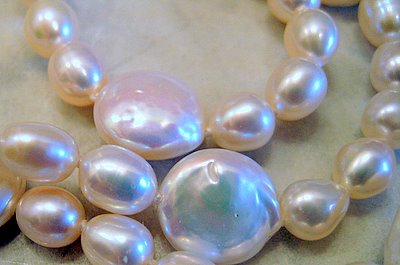 Nitty Gritty Details:
Pearl Type: Cultured Freshwater Pearls
Shape: Oval & Coin
Color: White
Size: Oval: 7-8mm Coin: 10-11mm
Surface: Oval: good Coin: imperfections
Luster: Good: Some pearls exhibit "orient"
Necklace Length: 30"
Clasp: Sterling Silver Toogle
Earrings: Sterling Silver dangle
Sorry, this style is no longer available.

Search here.