Madame Fromage Cheese  Shop in Cardiff

At the Madame Fromage Cheese Shop in Cardiff I asked about Welsh Rarebit. And yes, there is Welsh Rarebit served at restaurants in Wales...but unfortunately, I did not taste any.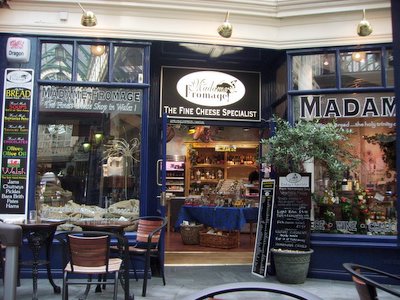 Madames Fromage Cheese Shop in Cardiff Photo by Kari
If I ever got to Wales, I promised myself that I'd try this authentic Welsh dish. So...I eventually wandered into Cardiff, Wales and happened to recall my promise.
Now, I'm pretty skimpy when it comes to buying meals in restaurants on trips. I pity any poor soul who travels with me...she would lose weight and be trim and fit when we get home...but be very hungry during the trip. Something about traveling makes me forget about food and I gladly take advantage of my lack of appetite.
Saturday evening on my way to the hostel I kept my eyes open for a place to eat Welsh Rarebit, but it seemed all I could locate on my trek were pubs...and I don't make it a practice to go into pubs when I travel, unless it is somehow necessary like needing to use the internet or something. I hoped that the next day I could find a place, since I was only in Wales for parts of two days.
After a delightful Sunday church service the next morning at a local charismatic church very similar to my own, I moseyed on over to a Cardiff shopping area and the nicely decorated Madame Fromage cheese shop in Cardiff caught my eye...surely they would know where I could buy a nice hot Welsh Rarebit for lunch. They did. Right across the walkway in their restaurant...that is IF the wife had the base (I forget what he called it) already prepared.
I asked how they made authentic Welsh Rarebit and after his explanation I confirmed, that, yes, that's exactly how I made it too. "You're not missing a thing then," the store owner assured me, adding that they sometimes add Worcestershire sauce...me too...so then, the big urge to taste the "real thing" became not such a big urge.
Still, I decided to try out their tidy and compact restaurant and eat in the walkway on rod iron table and chairs.
I ate this delicious quiche meal instead and enjoyed the cozy Welsh shopping atmosphere.

Madame Fromage Cafe Meal Photo by Kari
When a homeless lady approached me and asked me to buy her magazine, I invited her to join me at the table and after we chatted, I asked if I could pray for her. She gratefully allowed me to pray and since I really didn't want the magazine, I was happy to give her a donation. My heart really went out ot her, I could tell she was trying hard to change her situation.
Kari at Cafe of Madame Fromage Cheese Shop in Cardiff
Enjoy my
Welsh Rarebit Recipe
which I have developed over the years of feeding my big family of seven children.
Cardiff Stone Animals
Street Preachers
Buzz on over to Kari's main page after reading about Madame Fromage Cheese shop in Cardiff, Wales.