Aboriginal Pearls of North America
This information about aboriginal pearls is from the Kunz and Stevenson book, published in 1908. Special thanks to John Rummel for these photos from the Hopewell site in Ross County, Ohio and of a former exhibit by the Ohio Historical Society.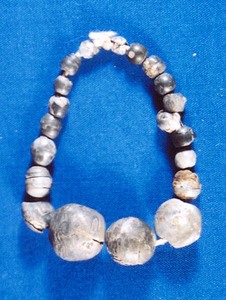 Hopewell Mound Pearls Ross County
The use of pearls by the aborigines of the territory now comprised in the United States is proven by their appearance in the mounds and certain graves of pre-Colombian date. This is of great interest in view of the unique system of burial and the great variety of objects buried with the pearls. It is evident from the quantities of aboriginal pearls discovered in some of the mounds that a very great number of pearls, many of large size, must have been owned by these aborigines, and they were evidently quite expert in the art of drilling them. Pearls must have been freely used for ornamental purposes, and it is clear that many rivers in this region must have produced them in great numbers, when we consider that in all probability the mussels were taken only as they were required for food or for bait in fishing, and had probably reached their full growth.
It is not unlikely that aboriginal pearls were used in this continent for a long period, and they may have been in use centuries before any employment was made of them in Europe. In the age of the mound-builders there were as many pearls in the possession of a single tribe of Indians as existed in any European court. We have no means of ascertaining the precise date of any of these burials, and there are no historical records relating to this region, such as were kept in Mexico as well as in Europe and Asia. No trace has been found of the employment of pearls, either for decoration or ornament, by the aborigines of Europe or Asia; either they did not use them or else the pearls have entirely passed away in the course of twenty or more centuries. We do know, however, that neither pearls nor Unio shells were used by any of the lake-dwellers of Switzerland or the adjacent counties.
Many eminent archaeologists have investigated the finding and history of the pearls of the mound-builders of Ohio and Alabama, especially Squier and Davis, F. W. Putnam, Warren K. Moorhead, C. C. Jones, W. C. Mills, and Clarence B. Moore. The discoveries made up to 1890 were fully treated by one of the writers in several pamphlets (one of them, "Gems and Precious Stones of North America").
It is not unlikely that the Indians of the Atlantic coast may have known of pearls from the common clam as well as from the edible oyster. The former may have often contained pearls weighing from fifty to one hundred grains each, as at that period the mollusks were permitted to attain their full growth, and perhaps were not eaten except when they were as small as little-neck clams; the larger ones were sought for the purple spot which held the muscle, and was used for wampum. We have no record of the finding of aboriginal pearls in any graves north of Virginia, as the many graves opened in the past century have failed to reveal them, nor has the use of pearls been mentioned by any of the early writers. They may have been worn, but if so they have passed away or may have been mistaken for ashes if they had decrepitated.
The first English settlers found the Indians of the tidewater region of what now constitutes the Middle States using pearls quite freely and esteeming them among their favorite treasures and ornaments. Captain John Smith, and all the early chroniclers of the Virginia colony, have given many accounts of this aboriginal use of pearls.
See an ancient necklace of aboriginal pearls found in Iowa.
Read about Ohio Hopewell Native American mound pearls.
Free Newsletter all about Pearls!
Search here.