Ani - Visit to an Ancient City of Eastern Turkey
Ani - Visit to an Ancient City of Eastern Turkey
Photo credits: Allposters.com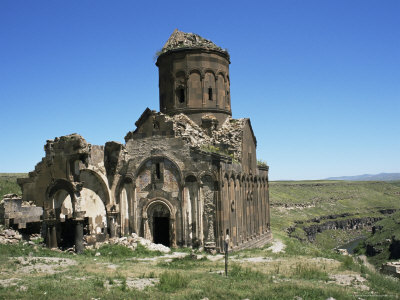 Parts of this former magnificent city remain....just enough to tantalize one's senses into dismay that we no longer can enjoy this once thriving metropolis on the very Eastern edge of Turkey.
Shamefully, I'd never heard of this ancient place. Have you? I was told about it by a progressive-thinking tourist guide in Dogubeyazit, which is also in Eastern Turkey by Mt. Ararat on the Iranian boarder. He sensed my intense interest in Turkish history....so passed on the info about Ani and suggested we (my son, Sam and I) head back to Istanbul via Ani. Since our plans were to head north to the Black Sea anyway, we took his idea.
Before going to Ani, one must obtain special permission in Kars. That took some doing, but we finally found the right tourist office, which naturally was closed for lunch, so we bought lunch ourselves and waited. Funny how these Turkish folks have perfected their sales techniques....so much so, that when Sam wanted to buy himself an ice cream sandwich, he ended up purchasing two of them, willingly...without even realizing it. I helped him eat the extra one, but we both stared at one another in amazement at the salesman's crafty skill. (Hmmmm, maybe I should hire a few of these guys to sell my
pearls
.)
Finally, after waiting patiently for permission, Sam and I drove our way to Ani, which is near Kars. We stopped and asked a small shepherd boy for more directions. He shook his head. No comprehension of our Turkish apparently. We probably gave him something, I forget, but we generally are laden with small gifts for such occasions.
(According to wiki, there is no longer a need to purchase a special permit to visit Ani.)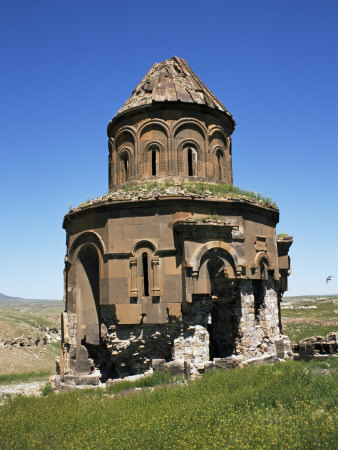 There are amazing details of Ani and its colorful history on
wiki
...there's no need for me to repeat them here. My personal impressions are unique to Globe-Hoppers.
The road to Ani is a small dirt-like road, very undeveloped and what impressed me was the condition of the small farms along the way. No machinery. Nothing modern. Horses and carts. Very small houses and stick fences with evidence of ancient stone carved pieces incorporated into their small houses. I really can't imagine that being very different than from when Ani was a thriving metropolis.....and no, it wasn't a tourist trick to provide atmosphere...this was the real deal. They still live that way there. Very poor. What impressed me was that, in the 9th century AD, this city was more progressive than the outlying farms are today. That was a shocking reality to me. I couldn't get that fact out of my mind as we walked around the ruins. For example, the ancient city had hot baths: I doubt seriously if these places had hot water at all, not to mention baths; the ancient city had a place for processing olive oil: there was no such capabilities in the outlying farms.
The day Sam and I visited, the guards were expecting dignitaries to visit, so they had little time to notice us. I never did find out who the dignitaries were, but they were right behind us or crossing our path constantly as we toured the ruins. I should have been more friendly and introduced myself, but since we were "shooed" on our way through the gates when we first arrived, I felt that maybe I'd better not presume the dignitaries would be interested in meeting us....although, they appeared to be very curious about us, maybe even more so than about their tour.
So, other than cordial smiles and hellos, we didn't interfere.
We found ourselves hurrying along, so as to stay out of their way, mostly, as they were also accompanied by official tourist workers.
Pot shards and small bones were sprinkled around with a few signs signifying the churches name or place such as "Market Place", "Hot Baths", "Olive Press", etc.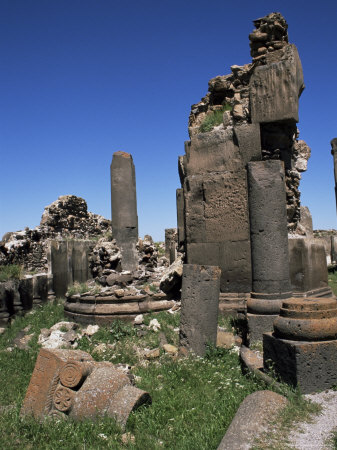 We viewed awesome Armenian structure after structure...ruins, naturally, but the immenseness is overwhelming and also extremely hard to fathom how this ancient city could be left in such a ruinous state, but then Turkey is absolutely filled with ancient structures left this way. It would really help Turkish tourism if they could afford to excavate/restore these amazing places.
The ruined city is on the actual border of Turkey with present day Armenia, which makes Armenia just across the creek and in the pasture beyond. There was a church ruins in the valley we wanted to see, so started our way down there, but were confronted with a machine gun wielding Turkish soldier yelling at us, "Go to the back! Go to the back! Go to the back!"
We got the message....we couldn't go that far down to the actual border. Ok, ok, ok.....no problem. We skipped that one.
I loved seeing near the edge of the city on a hill some original ruts of the silk road. I'm totally fascinated with the silk road route and love thinking about the caravans bringing goods from the orient to this part of the world.
Anyone interested in history will go crazy in Turkey with so many churches, Ottoman hotels, monasteries, castles, and even ancient Hittite cities to explore. A person could spend a lifetime exploring these places....so don't get too carried away unless you feel "called" to make this your life's work.
You'll love this
clickable virtual map of Ani
.
Here are a few more of my Turkish observations.
Photos of Hagia Sophia Museum in Istanbul
Mosaics of Jesus in the Hagia Sophia in Istanbul
Viking Warriors in Ancient Byzantium (Istanbul)
Kari's Main Page