Photos of Hagia Sophia in Istanbul Turkey
Nearly everyone visiting Istanbul makes a stop at the Hagia Sophia in Istanbul Turkey....well...I was no different.
Our oldest son, Andrew, lived in Istanbul for five years so he was my guide
par excel-lance
...of course, the information in the Lonely Planet guide helped too.

Istanbul Hagia Sophia Church Photo by Kari
Andrew and I enjoyed having lots of time in this place which unfortunately hasn't been kept up to the best of it's beautiful beginnings (It was build in five years--532 to 537--no I did not forget a 1 in front...that is hundreds..) and still the Islamic signs reminiscent of its time as a mosque dominate the ceiling overshadowing the angels.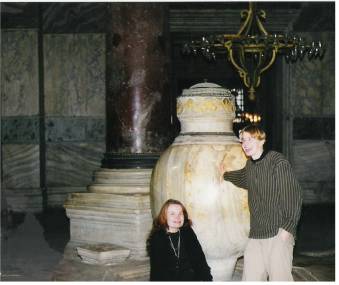 Marble Interior Hagia Sophia Istanbul with Kari and Ethan
I have also visited the Ayasofya (the Turkish term for Hagia Sophia which is also called St. Sophia) with sons Ethan and Samuel...we really like this place!
Starting out as a church and lavishly decorated fit for a king, Hagia Sophia in Istanbul then fell into the Ottoman hands becoming a mosque which began its demise.
Author, Mark Twain, visited Ayasofya Istanbul (it was called Constantinople when he visited) during this time noting the state of filth and grime it had degenerated into. He wasn't too keen on the place...but then Istanbul in general was a big disappointment to him.
After the mosque era, the Hagia Sophia in Istanbul became a museum...its present roll in the cast of Istanbul characters. The admission charge keeps creeping up, however, but don't let that deter you...the St Sophia in Istanbul is worth saying you've seen.

Scafolding Hagia Sophia Istanbul Photo by Kari
Other than its immense size I'll point out two distinguishing characteristics.
Notice the mosaics which sadly have mostly disappeared by looting. Wherever one travels in Turkey it's evident that the Turkish people or the government authorities do not realize the treasures lying at their very feet.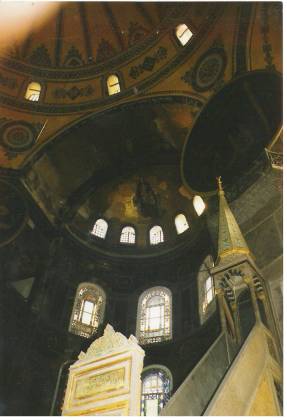 Upper Interior Hagia Sophia Istanbul Photo by Kari
The mosaics up high, however, remain, and this exquisite mosaic of Jesus can still be seen. Jesus is flanked by mosaics of Constantine and his wife.
This portrait of Jesus may be purchased by clicking on the links under the photo.
Here's another page of
mosaics of Jesus
in the Hagia Sophia in Istanbul.
Our son Ethan hung back once when he and I were visiting this place and he came home with a similar amazing photograph of Jesus which is now enlarged, framed and hung in my bedroom.
Do you think Jesus would like this mosaic of himself? I don't know...although He looks pretty gloomy, it's a gorgeous valuable mosaic.

Hagia Sophia Istanbul Photo by Kari
Another area of attention is on the upper balcony of the Hagia Sophia in Istanbul where our (we are Scandinavian) ancestors, the Vikings, left their graffiti...prankish rouges these fellows. Still today, protected under clear plastic one can read (if you can read ancient Viking script, that is...) their words, initials...whatever it is.
Yes, this place is old and the Vikings were here. Do you suppose they carried off some stolen loot from an obscure corner of this once lavishly decorated building. Ummmm....maybe there's some hint of the St Sophia in some Norwegian Museum somewhere...who knows....maybe they pillaged some of the valuable mosaics now missing...
Here I relate some information I've discovered in a book in our home library about the
Viking Warriors in Istanbul.
The Ottomans not only claimed the Hagia Sophia in Istanbul by adding minarets and defacing the angels once they took over Byzantium (modern day Istanbul) but were jealous of its size and power. It was ordered that a mosque with greater square footage of roof be built....thus the Blue Mosque (a short distance away) came into being. The architect lost his head over the deal...the Blue Mosque did NOT surpass the size of Hagia Sophia in Istanbul.

Panorama Hagia Sophia and Blue Mosque Istanbul Photo by Kari
I took the above photo from a ferry as we
crossed the Bosporus
.
AND....did you know that EVERY mosque COPIES the roof of the Ayasofya in Istanbul Turkey? As a Christian...that is of great interest to me...every mosque is a COPY of the great ancient church....the Hagia Sophia in Istanbul. As is Islam...a deceptive copy of Christianity.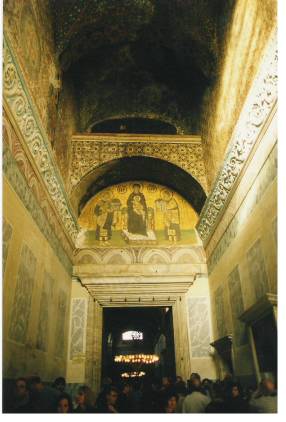 Mosaics Hagia Sophia Istanbul Photo by Kari
When I visited with our son, Samuel, and he picked up a sheet of soft lead that was on the ground around Hagia Sophia in Istanbul as the workers were in the process of fixing the roof and discarded the old lead.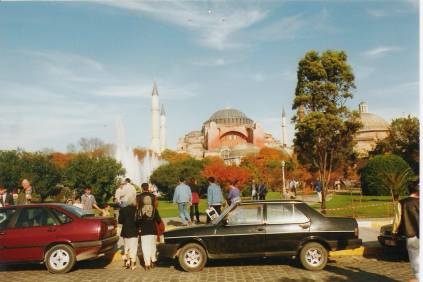 View of Hagia Sophia Istanbul Photo by Kari
Don't miss it folks....oh...there's also a tremendously large circular cobblestone road...yes, road going up into the Hagia Sophia. It's large enough for horses and wagons or chariots to use. Take some time to explore this amazing structure.
Go to Kari's main page after Hagia Sophia in Istanbul Turkey
Photos of Hagia Sophia Museum in Istanbul
Mosaics of Jesus in the Hagia Sophia in Istanbul
Viking Warriors in Ancient Byzantium (Istanbul)