Pictures of Jesus from Mosaics in Hagia Sophia Istanbul



Unique pictures of Jesus from ancient Byzantium, afterward called Constantinople and now called Istanbul on the Bosporus Sea and divided by two areas..Asia and Europe.
Great ferries transfer people from one side to the other..or they cross on a long bridge. Either way, many locals and especially tourists make their way to the
Hagia Sophia
which is called Ayasofya in Turkish and also referred to as St. Sophia.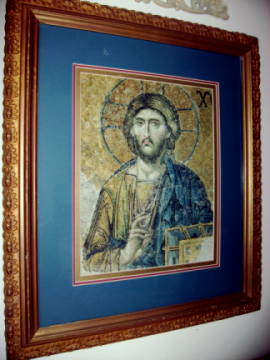 Mosaic of Jesus Framed
Our son,
Ethan,
took his own photo of this famous mosaic of Jesus and I now have it framed in my bedroom.
The pictures of Jesus are in the Hagia Sophia, an ancient and I mean
ancient
(constructed in the years
532 to 537
) church near the Bosporus and Golden Horn in Istanbul. This colossal feat of architecture was the largest single enclosed space for 1,000 years.
Istanbul Hagia Sophia Church
It was lavishly decorated with mosaics. Even after seeing the Hagia Sophia three times I did not realize the former beauty until my aunt Denise's funeral in Minneapolis. Funny connection you say? Yes, it is.
Her funeral was in a chapel that was patterned after the Hagia Sophia. This chapel is breathtaking! I even forgot to notice long lost cousins before the funeral...I was so stunned by the beauty around me.
Only after seeing this chapel did the importance of the mosiacs and decorations of the Hagia Sophia begin to soak in to my brain.
Now, I could almost cry as I think of the lost beauty and treasure that is missing from the present day Ayasofya (Hagia Sophia in Istanbul)...only remnants can now be seen of the once gorgeous adornment of this gargantuan structure.
Enjoy these pictures of Jesus to whom this enormous church, the Hagia Sophia, was dedicated.
Since the Ayasofya has experienced being a mosque and is presently a museum.
Do not miss this treasure if you get a chance to see it!
Mosaic of Jesus Istanbul Hagai Sophia
Jesus Mosaic Hagia Sophia
Jesus Hagia Sophia Istanbul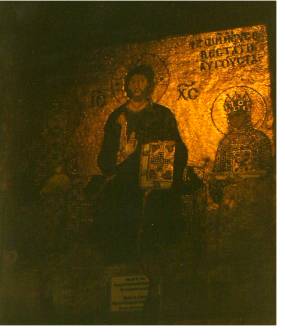 Jesus Mosaics Hagia Sophia Istanbul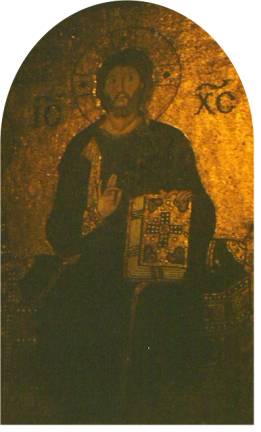 Mosaic of Jesus in Hagai Sophia
Jesus in Hagai Sophia
Kari's main page after Pictures of Jesus.
Photos of Hagia Sophia Museum in Istanbul
Viking Warriors in Ancient Byzantium (Istanbul)
Ancient Ani
Surviving A Bosporus Crossing
Jason's Church on the Black Sea
Visit a Turkish Stone Village