Black and White Pearl Bracelets
What could be classier than black and white pearl bracelets? These go with almost everything in your closet. You'll find yourself wearing this days on end and wondering how you ever lived without it.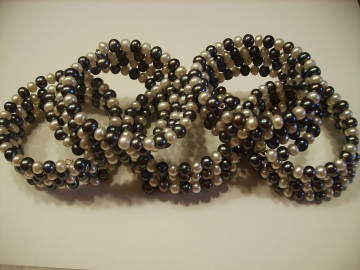 Black and White Bracelets
Wearing pearls boosts self-esteem...and who couldn't use a little more of that? Try it for yourself. This black and white pearl combo would be a good place to start your pearl collection.
A friend from England says, "A woman is known by the pearls she wears!" So....hey, start wearing pearls. They are timeless beauties that will never go out of style!
The pearls in this bracelet are not perfect....but did you know that even less than perfect pearls can be stunning as well as being affordable? And as you can see by the photos any slight imperfections are barely noticeable.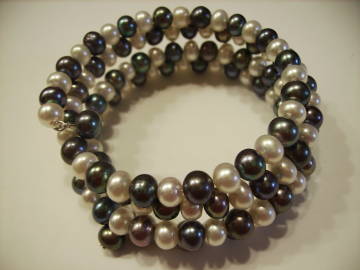 Black and White Pearl Bracelet
Ready to give one a try? Don't worry, your purchase is guaranteed by me. I'll gladly refund your money, no questions asked, if it isn't what you really want.
The wrap style makes this an excellent gift purchase...one size fits all. No more guessing about someone's wrist size.
My friend, Selina, put this design idea together. Selina was born with fashion sense. She just knows what, when and how to wear things.
Sorry, this style is no longer available.
Crazy about black and white? You'll love this necklace and earring set.
Now check out more pearl wrap bracelets after black and white pearl bracelets.
Free Newsletter all about Pearls!
Search here.