Freshwater Pearl Wrap Bracelets
Never worry about pearl bracelet size again! These freshwater pearl wrap bracelets fit everyone.

You know the story. You buy a pearl bracelet....oppps!....too big or too small. And you don't want to loose a pearl bracelet. They are too special.
One of the biggest services to my customers is changing the size of pearl bracelets. I want them to fit and fit correctly, not too big so they slip off and get lost and not too small so they are tight and uncomfortable.
Freshwater pearl bracelets need to fit so they do not slip off the hand.
These are perfect! These bracelets are wrapped more than once giving every lady and girl, no matter what size wrist, the flexibility she needs to wear and enjoy these gorgeous pearls.
I've included three design styles on this page for you to choose from with three great colors.
First, a black and white pearl bracelet...a super color combo that goes with soooo much of your wardrobe. My creative friend, Selina put this idea together with four rows of lovely pearls.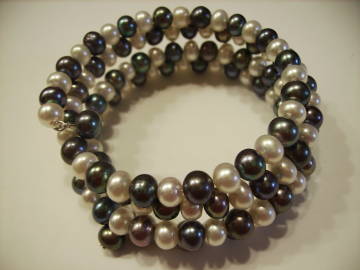 Black and White Bracelet
Click here for more details about black and white pearl bracelets and for purchase options.
Next, this snazzy lavender bracelet that Selina also designed using three sizes of alternating lavender pearls both for the bracelet and the dangles. Two rows of pearls here assuring that it fits everyone.
Lavender Pearl Dangle Bracelet
Click here for more details about the lavender pearl bracelets.
And last, this popular and stunning white pearl bracelet which is perfect for dramatic evenings out with that chic black dress or for daytime use when you're in your jeans. I'm big on jeans and pearls. Why not? Why not feel like a feminine princess all day even when you're wearing those comfortable jeans.
Click here for more details about the white pearl wrap bracelet and for purchase options.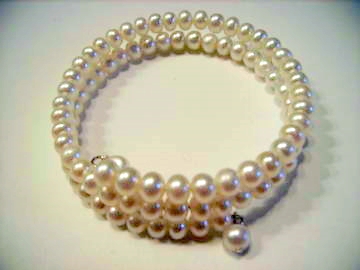 White Wrap Bracelet
This white pearl bracelet has also been featured as a breastfeeding reminder pearl wrap bracelets by guest writer, Erica.