Cappadocia Caves include Churches
Cappadocia caves make up several ancient churches many elaborately decorated with wall paintings in scenic Ihlara Valley between the villages of Selime, Belishrma and Ihlara near Aksaray and Goreme.
Seeing these churches requires hiking and stamina but it's worth the effort.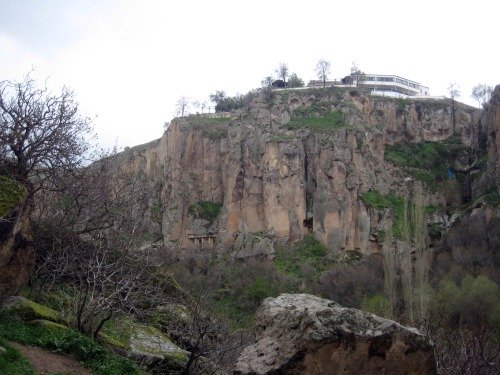 Cappadocia Caves Ihlara Valley
You can see the
Sumbullu Kilise ("Church of the Hyacinths")
across the valley here. I had crossed a bridge to see another cave church. You can also see a restaurant on top of the valley. These cliffs were massive.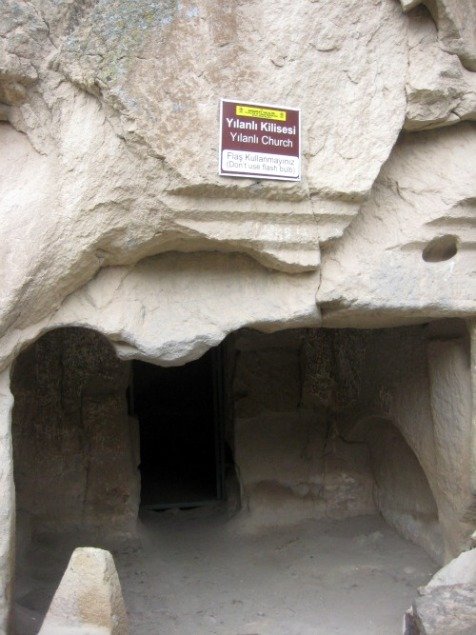 Yilanli Kilise - Ihlara Valley
Entrance to Yilanli Kilise or "Church of the Snakes". If I had taken the time to read the Turkey travel book I toted with me and realize that most of the paintings here had snakes in them I would have taken more photos.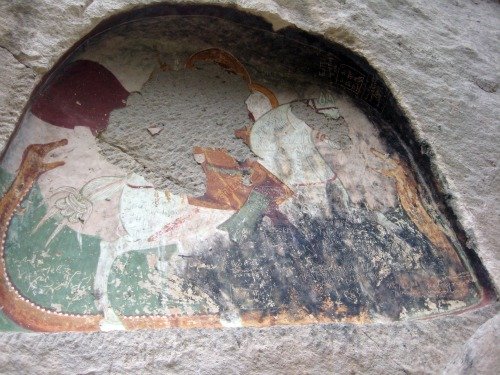 Cave Church Ihlara Valley
I did capture one of this large snake with two heads scaring a horse with unknown rider. Damage to these valuable and ancient frescoes is a shame.
Ihlara Valley
Here the path is smooth and easy going but it was not all like this especially this time of the year when the rushing river overflowed its banks in places flooding the path. Then up, over, around and sometimes under rocks was required.
Cappadocia Caves Ihlara Valley
Here's a view of river, cliffs and Ihlara Valley with wild flowers.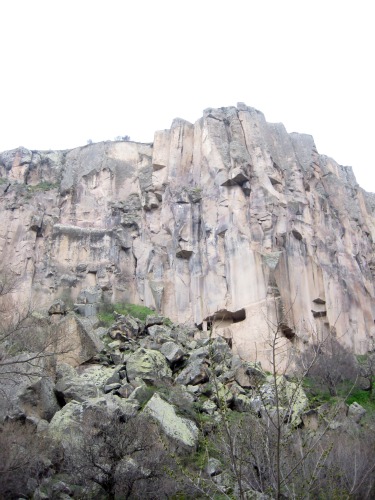 Cappadocia Caves Ihlara Valley
This sheer rock cliff stone was perfect for carving out caves. You can see some man made holes if you look carefully. After time fronts of caves broke off exposing the hand carved rooms.
Extensive tunnels run through these cliffs.
Cappadocia Caves Ihlara Valley
The rushing river kept us on track. As long as we heard the river we knew we were not lost but would eventually come to the end of the valley and be able to pick up our car that the hotel manager had dropped off for us. A kayak would have been fun here.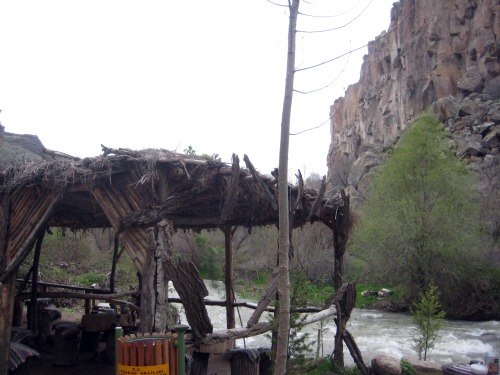 "Kardesh (Brother's) Restaurant" Ihlara Valley
Finally, a bathroom...but for a lira charge from the Kardesh (brothers) who ran this Ihlara Valley restaurant next to the river. They slept there in a little wooden hut and ran this restaurant. I brought a bottle of water with me, but John purchased a green bottle of mineral water which he was careful to return to the brothers so they could return it for the deposit. It shocked us when they threw the bottle on a rock smashing it to pieces.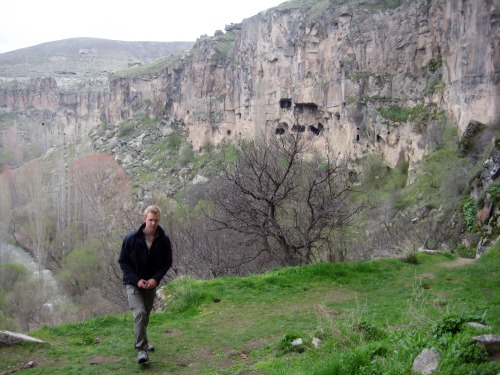 Cappadocia Caves Ihlara Valley
The next church took us this high up the cliff face. Notice how far below the river is.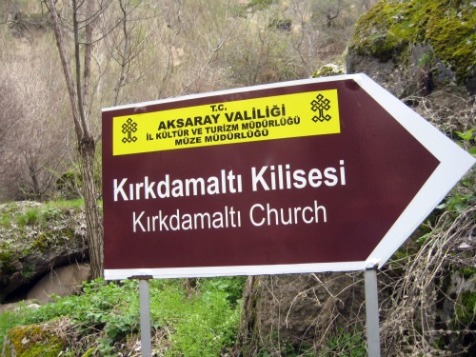 Cappadocia Caves Ihlara Valley
By this time I was getting quite weary and I could tell this church was quite a climb. As I debated attempting the vertical ascent a couple about my age were descending and seeing my doubtful expression said with understanding smiles, "It's worth it."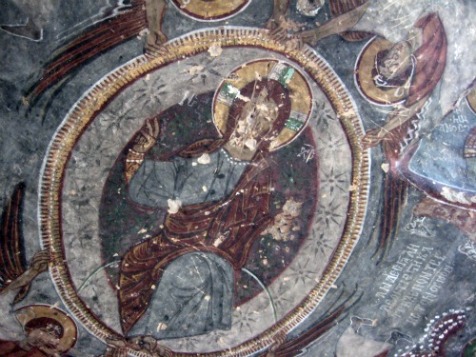 Cappadocia Caves Ihlara Valley
It was, but I was slow inching my way upwards with very slippery shoes. One rock needed was slanted outward and I took my time finding a sure hand hold before pressing my full weight on it.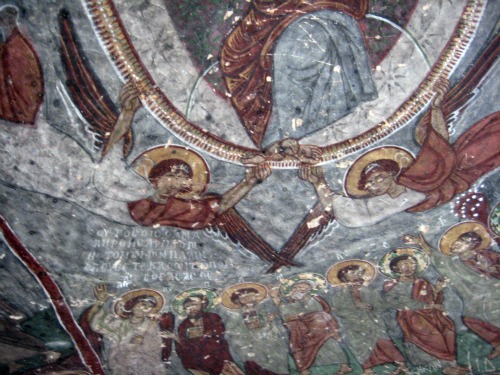 Caves Ihlara Valley
About that time a tall, young man came bounding my me like a gazelle or mountain goat and ran to the top. Stunned, I continued my feeble efforts at going forward. Soon, I saw him returning down the mountain towards me. Oh, good, I thought, as I was still struggling in the same precarious place, he'll lend me his hand and help me up this crazy section.
Instead, he continued on past me bounding his way down the mountain, saying in a German accent, as he passed, "Not impressive!"
Oh, great, he didn't help me and now he's saying it is not impressive. I lunged forward anyway...I was half way there and determined now.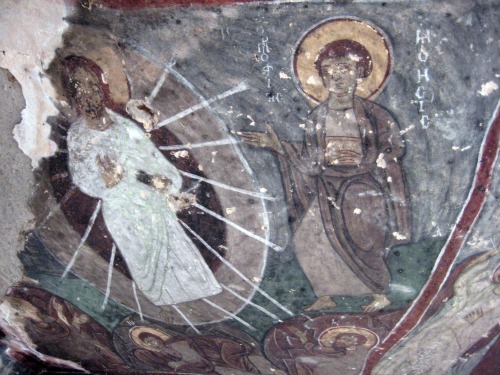 Caves Ihlara Valley
Notice the Greek writing on the reds, golds and grey paintings. White paint with rays was reserved for Jesus in the center.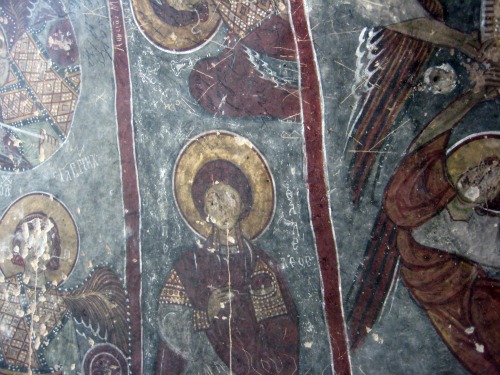 Caves Ihlara Valley
One thing that impressed John was the clearness of Christianity in these paintings which were almost always centered around Christ or aspects of his life or Christian saints and angels.
Ihlara Valley (notice paintings lower right)
It's hard to imagine how much time it took the monks who lived in this valley to not only carve the caves but paint the churches.
The monastic occupation of Ihlara Valley or Peristrema as it was originally known, was continuous until the fourteenth century. Making these abandoned for about 500 years. The development of the decorations can be traced through pre-and post-Iconoclastic periods.
Paintings show both Eastern and Western influence, so that some figures wear Arab striped robes, whereas other resemble those in Byzantine frescoes in Europe.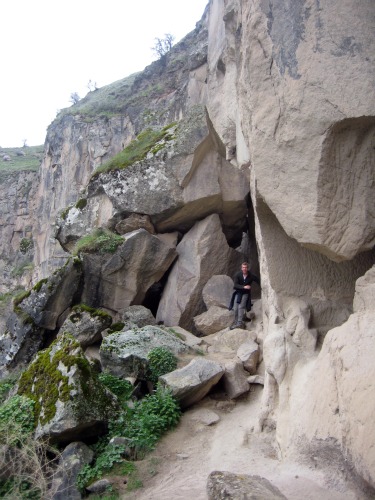 Caves Ihlara Valley
Nimble footed John explores caves further along the cliff face. I was content to "catch my breathe". Notice how high we are to the top of the cliff.
(Details of Ihlara Valley thanks to Rough Guides.)
First page of Ihlara Valley trek
Kari's main page after Cappadocia caves
main Turkey page
More Cappadocia cave churches
Our start for hiking in Ihlara Valley.
Cappadocia Archeology