Personal Gifts from Mikimoto
Patty shares her story of receiving gifts from Mikimoto as a newborn babe in Tokyo, Japan, shortly after the war.
Kari's note: Ever since I started researching pearls I've been fascinated with Mr. Kokichi Mikimoto. I was awed when Patty shared her story about knowing him personally and receiving gifts from him. I have read that Mikimoto used his pearls as gifts to bring healing after the war...and now Patty has graciously let me add her story to my site.....enjoy.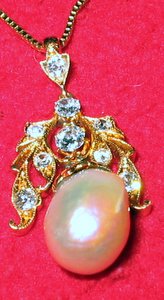 Gift from Mikimoto
When I was born on March 17, 1949, Mr. Mikimoto came to the hospital on the Army base and presented my mom with two pearl necklaces - one for her and one for me (still have the original silk box) and he said "I hope these two strands can help to weave together the peace our countries seek."
He told my mother upon giving her the necklaces, "You and your daughter are like a drop in the ocean of understanding between our two countries; you will carry the message for both our countries - please accept these gifts from Mikimoto to you and your daughter."
Mr. Mikimioto expressed such wonderful happiness to my mother when I was born and said he hoped I would one day know that two common men became friends during a difficult time and tried very hard to work together to re-build a nation.
I still have the two pearl necklaces - but unfortunately, I found out from my jeweler that my mom (bless her heart) ruined one of them by always having it on while spraying hair spray on her hair which damaged it. The second one, which was untouched, by the hairspray, I gave to my daughter, who is 40. So that one is still in pristine condition.
More Gifts from Mikimoto - Pearls and Jade
Another gift from Mikimoto to my father is the pearl in the photo. I believe it is a natural pearl from his personal collection. My parents had it designed into this necklace with diamonds and gold in Salzburg, Austria, which is where they went to rebuild after rebuilding effort in Korea and Japan.
Still another gift from Mikimoto to my dad was a man's 8 carat jade ring. The last appraisal in 2005 was for $5,000.
When Mr. Mikimoto learned we were to leave Japan, he came to my father and mother and presented my mother with another pearl necklace. He said, "Your and your husband have helped me to understand that some of the people of your country care and want the best for our country."
More Gifts from Mikimoto -- Diamonds
Then, when my father, mother and I were standing on the tarmac to take our plane home (actually, I wasn't standing, but I was being cradled in mommy's arms), a representative of Mr. Mikimoto came to my dad and presented him with this very small wrapped box. He bowed and said Japanese things about how much Mr. Mikimoto was so grateful that my father had re-built his factory and please accept these gifts from Mikimoto.
When my dad was on the plane, he unwrapped the tie and took off the paper wrap and found within the small box 5 beautiful diamonds.
Of the 5 diamond gifts from Mikimoto:
The first diamond (2 carats) was offered to my parents' subdivision builder for a down payment, and at their suggestion, my parents sold it through the "Washington Post" classifieds and were able to buy their first home.
The second diamond (3 carats) my father had made into a man's ring and sold in the 1960's.
The third and fourth diamonds I still have - they were set in rings for my mom and me.
One ring was last valued at $9,000. I had it set with a swirl of 14 small brilliant-cut diamonds weighting a total of 1.0 carat. It's weight is 1.04 carat, total 2.08 carats.
The other ring was last valued at $14,400. Mom had it set with 2 round rubies on each side, each weight .30 carat. The diamond is 2.15 carats.
The fifth diamond (1.5 carats) I gave to my daughter uncut to have put into a setting she selected.
Since all of these gifts from Mikimoto are from the early 1950's, they are distinct. For instance, the diamonds are of the old mine cut.
Why the Friendship and Gifts from Mikimoto?
My father was the "person in charge" of the Army Corps of Engineers re-building effort in Japan - not the right words - but that's what he was - he was a civilian assigned to the Corps - no longer a member of the military.
He was assigned to re-build the Mikimoto Factory because it was one of the businesses that the US Government felt could help get Japan "back on its feet" so to speak.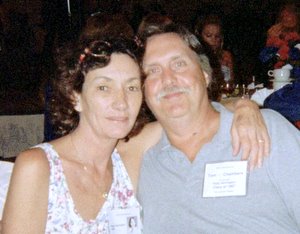 Patty and Husband
After the war my father did all he could do to try and re-build families and factories - especially Mikimoto.
The factory was completely destroyed during the war and obviously they lost most if not all of their inventory.
My father was always a man who could not bear pain and suffering and when he saw people and families torn apart and the devastation, it almost killed him emotionally and psychologically. It was very hard for him to write about it, but he did. I still have those letters.
He had originally been stationed in Korea but then was sent to Japan to help in the restoration efforts.
My mom and dad thought that Mr. Mikimoto not only was a great philosopher and statesman, but also a sweet and wonderful man! And their one wish was (even before they got that box on the tarmac) just know him. They loved and respected him.
My father and Kokichi Mikimoto spent many wonderful hours together talking about how to re-build Japan to the greatness it was.
He told my mother that of all the military men he had met, including the United States President and the Commander of the military, although he did not feel comfortable with them, he felt her husband was a good and caring friend and that he knew in his heart that her husband had done everything he could to accomplish what he wanted to do to help the people of Japan.
I was never able to re-visit Japan, and only recently read my parents letters and memoirs of their time there and their times spent with Mr. Mikimoto and his family.
So, that's the story. Actually, of all these gifts, the one that means the most is the small wooden box they were delivered in. I still have it.
I wish I had known of this earlier, but later is better than never, I only wish I could have known his family and been able to thank them personally.
Kari's Note: I love this story about the gifts from Mikimoto, not only because of his generosity, but because of the symbolism of the gifts. No doubt, he would be pleased to know that his company still flourishes today.
Visit Mikimoto Pearl Island.

Search Mikimoto stores for gifts from Mikimoto.
Learn more about Mikimoto, the person.
Search here.