How to Clean Pearls
This is an easy method for how to clean pearls which you can safely do at home. Thanks to my friend, Mary, from Texas for this tested care of pearls method.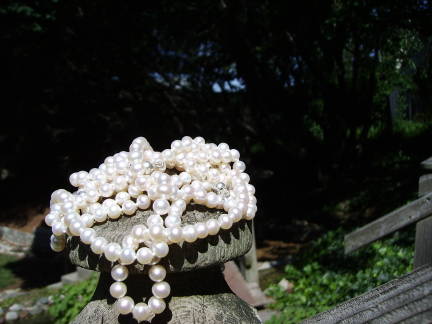 Click on photo to view more white pearls.




Needed Supplies:
1. Clean leg of pantyhose, or Bridal Veil fabric.
2. Mild shampoo. Mary likes to use golden Breck.
3. Sink and warm water.
4. Towel
How to Clean Pearls:
1. Place soiled pearls, either loose or still in a necklace, bracelet or earrings into a pantyhose leg or a piece of bridal veil fabric and secure ends so pearls cannot escape.
2. Fill a sink with warm water and mild shampoo.
3. Place "bag" of pearls into water and shampoo mixture and gently message the pearls with the bridal veil fabric or pantyhose being careful not to put stress on the silk thread.
4. When you sense that the soil is removed, rinse with clear water.
5.Take pearls from "bag" and gently absorb moisture with a towel and allow to dry.
You may be surprised at how much pollution your pearls have picked up over the years.
Mary has been working with pearls for a long time now and the last ones she cleaned for a friend were no longer gray, but a brilliant white once more.
After reading this how to clean pearls, you may enjoy learning Mary's simple way to restring pearls
Thank you, Mary, for this do-it-yourself way to cleaned soiled pearls.

The best you can do to keep your pearls in tip top shape is to take a soft cloth and wipe your pearls with it after each use. That way grime and body oils won't build up on them and in turn attract polluted air, smoke, etc.
But by all means....wear your pearls. They don't enhance anyone when in a box or drawer. Pearls are meant to be enjoyed and you deserve to wear something lovely.
And....don't just wear them for a wedding. Wear them often, even with blue jeans and casual clothes. Pearls have a way of making a lady feel very special...and we should feel special every day, don't you think?
Search here.