Malawi Safe Drinking Water?
Is there such a thing as Malawi safe drinking water?
Sometimes the answer to that lies only if one is willing to walk for miles and miles with a huge bucket on one's head, like this dear Malawi lady.
This is a very common scene in Malawi. Along roads many ladies are carrying large containers of safe drinking water on their heads.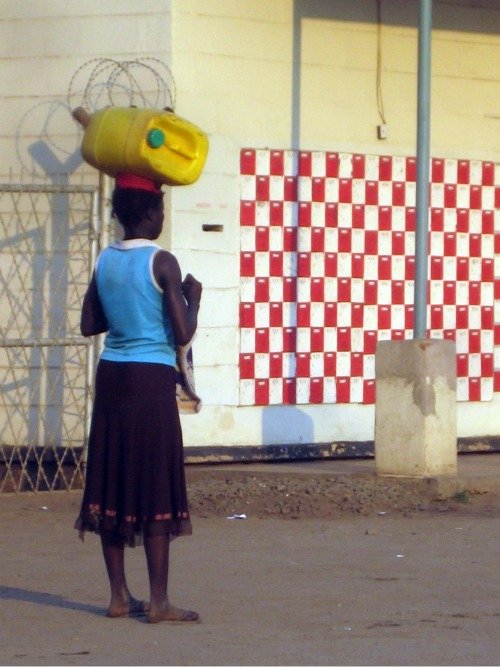 Malawi Safe Drinking Water
Wells are not plentiful, so walking to the nearest well and back home again could consume much of your daily time.
It never ceases to amaze me when I see these balancing acts. The skill certainly is a posture improver!
For foreign guests the main choice for safe drinking water in Malawi is buying bottled water....with a safety seal. Water bottles are regularly refilled and chilled and resold to local folks and tourists, so make sure your bottle is new and unopened.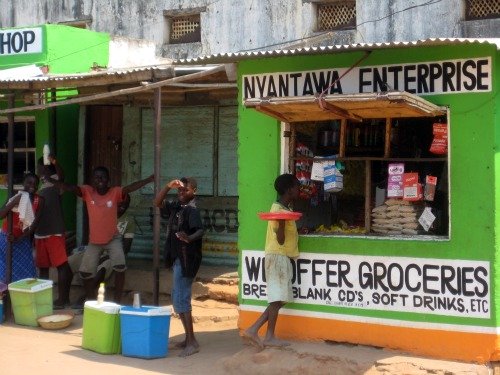 Malawi Grocery Shop
This little shop would most likely have safe drinking water in bottles. If you are lucky, it might even be chilled or frozen.
But, notice the little boys with the blue and green coolers. They are also selling "bottled" water, only the bottles are reused and the water not safe for tourists.
In this particular city, you'll even get a discount if you trade in a used water bottle. No used bottle is wasted in this place!
Malawi Children
The other option for Malawi safe drinking water is to boil it. Then it should be safe to drink. Then it can be cooled and just as refreshing as unopened chilled bottled water.
I was often in a rush to leave somewhere and only had hot boiling water and my empty water bottle, so I poured the water into the bottle. Voahala! I then had very misshapen, heat shrunk bottles with twisted necks and crippled bodies.
I did get better at planning ahead by cooling off my water before pouring into my bottle. At least my funny looking safe drinking water bottles brought a few chuckles from the locals.
So, what do these Malawi children drink? In this area it is common to drink river water that has been "purified", but I wouldn't recommend that for tourists.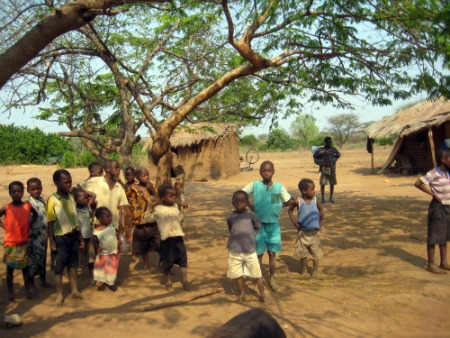 Malawi Village Children
This village is near a river and I understand they have rice paddies there too. I was not able to view them, however, but only heard about them and the village seemed to have plenty of rice. There is also plenty of dust!
I brought back a couple cups of local dirt for Sarah, our soil expert to test. I'm curious as to what nutrients are in that soil and how it could be improved. Sarah loves that sort of stuff and her dream is to someday go to Africa and help them improve their farming. She's already had farming experience in Colombia and Norway....and on our farm here in Iowa.
Malawi Fish
Naturally, the river also has fish and we happened upon a man returning home with his catch. I will say that fresh fish seemed very out of place in this dusty, dry village.
Malawi Cooking
Here is a typical Malawi kitchen! No toxic fumes to fill your home when all the cooking is done outside under a shade tree.
Main food here is sema, a stiff, porridge-like mixture made from corn or maize flour and rice. Sometimes meat is also a part of the meal. No part of the animal is wasted. Intestines are wrapped around other parts of meat and also some very strange tasting meat is in the pot. A little too strange tasting for this visitor!
River water is not only used for drinking in the back roads of Malawi, but even in downtown of the capital city of Lilongwe folks populated the river for washing their clothes. There never failed to be a crowd there cleaning up their clothing.
There is a dire need for Malawi safe drinking water. Not every village even has its own well. That would be a fantastic ministry to anyone so inclined. You would have many friends after providing a much needed well and water quality for a village.
Even though the weather in Malawi allows a whopping three growing seasons, often the Malawians cannot take advantage of that opportunity because of lack of water for the crops during the dry season.
Anyone developed a solar dehumidifier? Humidity in Malawi ranges from 50-85%. Surely, some of that atmospheric water could be translated into safe drinking water.
Do you know of clever ways to catch and retain rain water from the
rainy season
to be used for crops during the dry season?
So many opportunities are just waiting to be met in Malawi including Malawi safe drinking water!
Even if it's hard to find Malawi safe drinking water there are advantages to living in a mud hut!