Mikimoto Pearl Island Memorial Hall
Can't make it to Mikimoto Pearl Island Memorial Hall at Toba, Japan? Here's the next best thing to being there.
Somehow we wandered around and entered in the rear of the Mikimoto Pearl Island Memorial Hall...
Photo at Pearl Island of Kokichi Mikimoto in 1950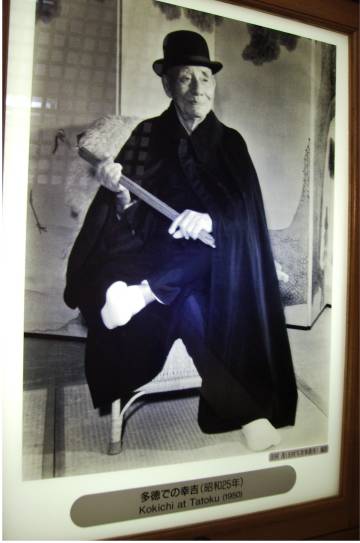 ...accidentally catching a glimpse of the Ama divers as they emerged dripping from their boat after their demonstration. After spotting my two tall, handsome sons, they ran giggling past us into the building.
The Hall is great fun to spend an amount of time in, especially for anyone fascinated with Kokichi Mikomoto.
The Mikimoto Pearl Island the Mikimoto Memorial Hall displays a reconstructed kitchen scene from his childhood home where his father made and sold noodles.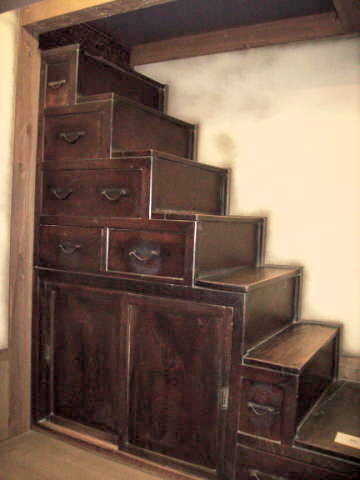 Don't you wish your
stairways were this
useful? Who says
modern days have
better storage? Maybe
Kokichi Mikimoto got
some of his practicality
from growing up with
this innovative piece
which is also at the
Mikimoto Pearl Island
Memorial Hall.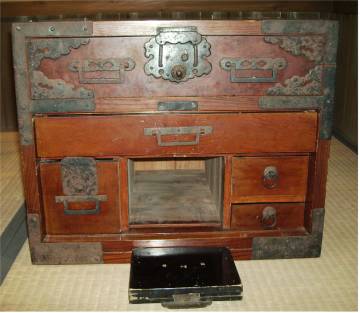 This wooden case with several compartments, also on display, shows the rich decoration related to usefulness.
I've just found and written a summary of an informative article in the November 1999 Traditional Home Magazine about Tansu furniture.
I could tell this type of furniture was special and was thrilled to read more about it. Once and awhile it pays to go through one's old magazines, I guess.
Mikimoto Pearl Island Memorial Hall displays personal memorabilia of Kokichi Mikimoto such as his bowler hat and black bag, unique dark round glasses, hand-picked pearl necklace (Boss's String of Pearls), letters (one from Thomas Edison), awards, photos, videos, an animated cartoon, plus information about Pearl Island and Ago Bay where Mikimoto had pearl farms.
Several photos of these items are on other pages on this site.
Here's a photo of his personal magnifying glass.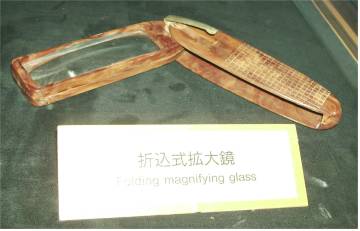 At the Memorial Hall you can see various particles that were tried as nuclei when experimenting and Mikimoto's personal balancing scale for weighing pearls. (Below)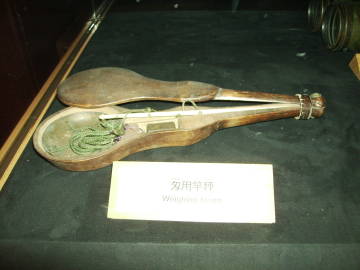 You can enjoy a large scale model of Toba in 1893 (the year the first pearl was seen that had been cultured by man), scale models of cultivation methods, stories of Kokichi Mikimoto's use of Hotan medicine which was widely used by him as a wonder cure, and many more items of interest including the school book with a story about him. This story fulfilled a dream of his...to become a hero and role model for children.
Return here for main Mikimoto Pearl Island page after reading about the Mikimoto Pearl Island Memorial Hall.
Photos and Text copyrighted by www.karipearls.com