Tansu Traditional Japanese Cabinetry for Convenience and Beauty
View Mikimoto's Tansu traditional Japanese cabinetry.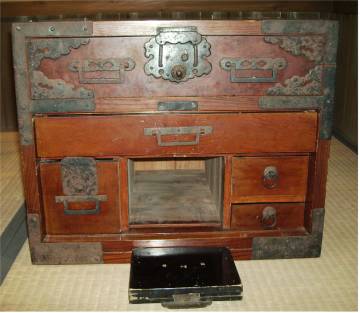 Mikimoto's Chest Tansu
The following is a summary of an article from November 1999 Traditional Home Magazine.
Need a storage chest? Well…why not make it beautiful? That's what the ancient Japanese did with Tansu traditional Japanese cabinetry...and people are still cherishing these practical yet elegant items.
A literal translation of Tansu is "movable chest." In the 18th and 19 centuries, Japanese households of both upper and lower classes were simple and small. But what storage chests they did have were graced with decorative ornamentation.
Various Tansu traditional Japanese cabinetry provided for different storage needs, such as small boxes for writing material and books as the one above from the Mikimoto Pearl Island Memorial Hall; larger chests for clothing, swords, and records; kitchen chest-on-chest tansu--mizuya-dansu-- held food and cooking utensils and often fretwork panels backed with screen for perishables; freestanding stairways for accessing lofts--kaidan-dansu--like the one above from the Mikimoto Pearl Island Memorial Hall; large merchants chests on large wooden wheels--kuruma-sansu.
Most often the interior construction was of light wood and the outside made of a finer, more figured wood, such as burled zelkova wood, or blond paulownia wood. Joints were gusseted by wrought-iron hardware, iron overlaid with silvered bronze, or handmade copper hardware and often worked with complex designs.
Differences in hardware distinguish the place of origin. For example, a simple but elegant drawer pull for a 1800's bridal chest of cypress and paulownia wood, reveals that is was made in the Yonezawa area of the Yamagata province.
Sliding doors, hinged doors, hidden compartments sit waiting to be opened with elegant bronze finger pulls.
Mikimoto's Step Tansu
Because of the frequent disasters on the Japanese archipelago, the possibility of fleeing for one's life must be considered beforehand…who know when they'll need to grab the stuff and run? Hence, Tansu were made to be carried. The larger pieces had sao-toshi handles which could be flipped up to insert poles and be carried on the shoulders of two people.
Sometimes a larger piece is really in two sections each with handles for ease of carrying. Larger pieces could measure 68" X 75" x 31".
Residents fleeing the Great Fire of 1657 clogged the streets of Edo with so many kuruma-dansu--tansu chests on wheels—that these big, mobile storage units were outlawed in several provinces.
One characteristic of Tansu traditional Japanese cabinetry is the lack of symmetry, making it pleasing to the eye.
In the 1950's Japanese, in their anxiety to modernize, were selling off their old Tansu furniture. Tansu occupies a small niche in the antique market and pieces are today becoming scarce.
Tansu can be divided into two eras, separated by the industrialization of Japan in the late 1800's.
Earlier Tansu traditional Japanese cabinetry were usually custom-made, with hand-beaten wrought-iron hardware, meticulous joinery and handpicked wood. These command high prices.
Industrialization sped up the making of these chests, but tansu from this era is still aesthetically pleasing.
Bridal chest often featured symbolic hardware. The crane symbolizes long life; the plum tree, courage; and the pine tree, endurance.
Now...wasn't that fun to learn about Tansu traditional Japanese cabinetry?
We understand even more about the Pearl King and his home life as displayed at the Mikimoto Pearl Island Memorial Hall.
Go to main Mikimoto Pearl Island page from Tansu Traditional Japanese Cabinetry
Search here
Photos and Text © by www.karipearls.com