Natural Mississippi River Pearls
Photos of Natural Mississippi River pearls found years ago during the pearl button rush in Muscatine, Iowa.
I'm fortunate to live in the very interesting city of Muscatine, Iowa.
Its motto is: "The Pearl of the Mississippi"...yes, years ago people found natural pearls in the Mississippi River.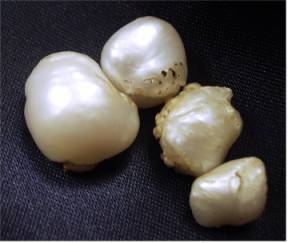 Mississippi River Pearls Owned by Anne Moody
A couple of summers ago some young friends who live right on the banks of this mighty river gathered some clams for fishing bait...and what do you know?
They found three lovely pearls for their mother! Yes...they were small...but treasures just the same.
As folks in town realize that I'm building this fun website about pearls more and more of them tell me about their own natural river pearls that they have tucked away in a jewelry box or have had made into a piece of jewelry.
Unfortunately many of the best pearls were sold years ago and probably ended up on top of the line jewelry by Tiffany & Co. Mr. Tiffany loved using natural American pearls in his jewelry.
I was blessed recently to see a Tiffany Exhibit in London called, "Bejeweled by Tiffany" that displayed some of this gorgeous jewerly made from Mississippi River pearls.
I still need to write a page about that exhibit...so watch for it. They would not let me take photos though...sniff, sniff.
It was a thrilling exhibit to see pearls coming from our hometown river to Tiffany's to London.
One day as I was visiting my friend, Anne Moody, who has a "must see shop" in downtown Muscatine she showed me her natural Mississippi River pearls.
They are gorgeous natural baroque pearls with great luster...treasures from our own back yard....we're so lucky to have this mighty river flowing by every day.
Ann also makes lovely jewelry out of our city's vintage pearl buttons. Here's a sample of one of her brooches.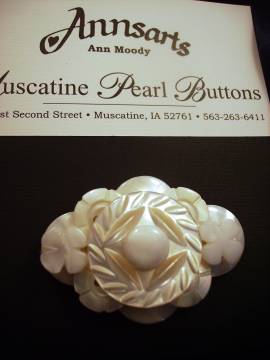 Ann Moody Brooch
Be sure to stop by and see her creative shop located in the "Pearl Plaza". She's always up to something fun and colorful and her friendly chatty ways make visiting a delight.
Go to main natural pearls after Mississippi River Pearls.
Learn more about American River pearls.
Muscatine Pearl Button Museum
Show us your Mississippi Pearls