Peach Pearl Rope Necklace
Peach pearl rope necklace...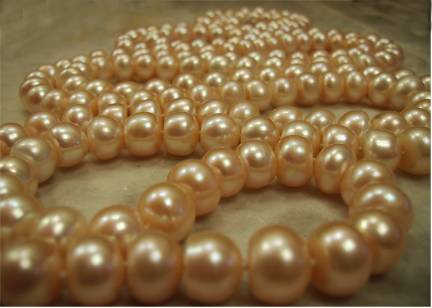 Pink Pearl Rope
Wow...this 9mm, naturally colored pearl rope necklace (64") can't be beat for fun, glamor, excitement and price in pearl jewelry.
A pearl rope can be worn how many ways?

These are fantastically fun 64" ropes. Enjoy these photos of ideas for wearing a pearl rope. The versatility of pearl ropes is endless.
I want everyone to experience the exhilaration of wearing freshwater cultured pearls and I love making people happy, don't you?

The large size, 9mm, interesting shape, and excellent matching to each other make these a fashion statement.
The imperfect shape doesn't detract from their beauty. Actually, lots of people prefer imperfect pearls because it shows that they are genuine.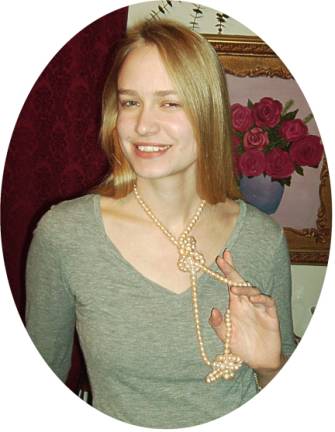 Pearl Rope
Color: peach
Size: 9mm
Surface: very clear
Luster: good...lots of great reflective quality
Shape: Round with one flattened side
Length: 64 inches
Clasp: Sterling Silver "S" clasp
Knotted between each pearl
Sorry, this style is no longer available.
Return from this Peach Pearl Rope Necklace page to the main Pink Pearls page.
I have decided to focus on selling natural pearls for various reasons but cultured pearls are beautiful, very affordable and plentiful. I've chosen to offer these here via Ebay since there are a variety of choices and styles available.
Owning cultured pearls are a great way to get your pearl wardrobe started, then I suggest upgrading to getting yourself a few fine natural pearl pieces. Both types are lovely in their own right.