Shanghai
Pudong District -- Shanghai, China Shanghai, China....one of those "must see" places.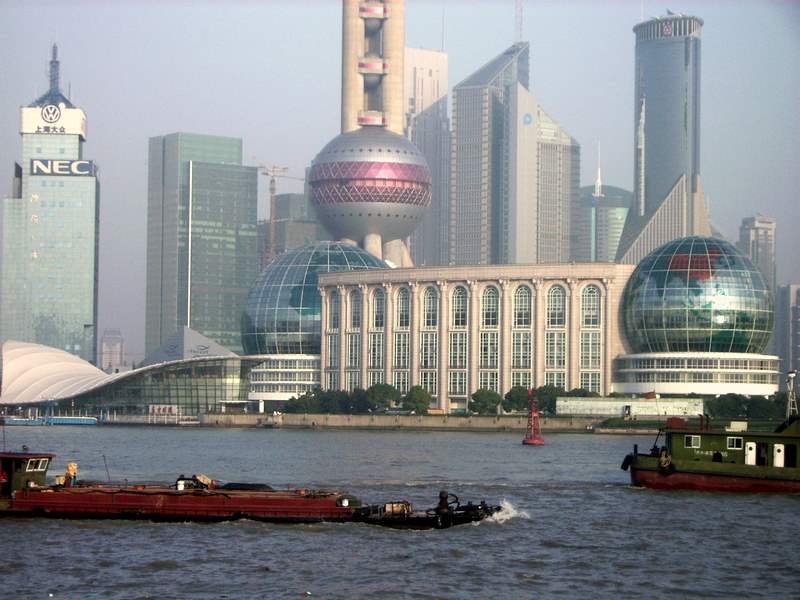 Shanghai -- Pudong District (Photo by Kari)
I'm experimenting with larger photos....I think I got a little carried away with this page.
Everyone and his brother writes about the Pudong district of this famous city...well, I am no different.
I admit it, without the
Lonely Planet
guide book, I'd be lost and would go to any famous city happily wandering around nameless side streets, perfectly contented that I had visited the city, totally oblivious to the famous spots.
Well, thanks to a guide book, like faithful tourists, we popped in on the Pudong district of Shanghai. While wandering around an older city...bingo...glancing across the Huangpu river one senses a sci-fi coming on. Imagine a district where eveything is brand spanking new, unique and built on a scale to challenge one's sense of reality.
So, the first question arises...."Who can afford to build things like this?" I'm not sure I know the answer, but I can tell you what a local told my son, Matt.
Matt's new friend said it was financed by international investors. I have no reason to doubt his conclusion.
The Oriental Pearl Tower, is by far the most sci-fi looking and also the most talked about.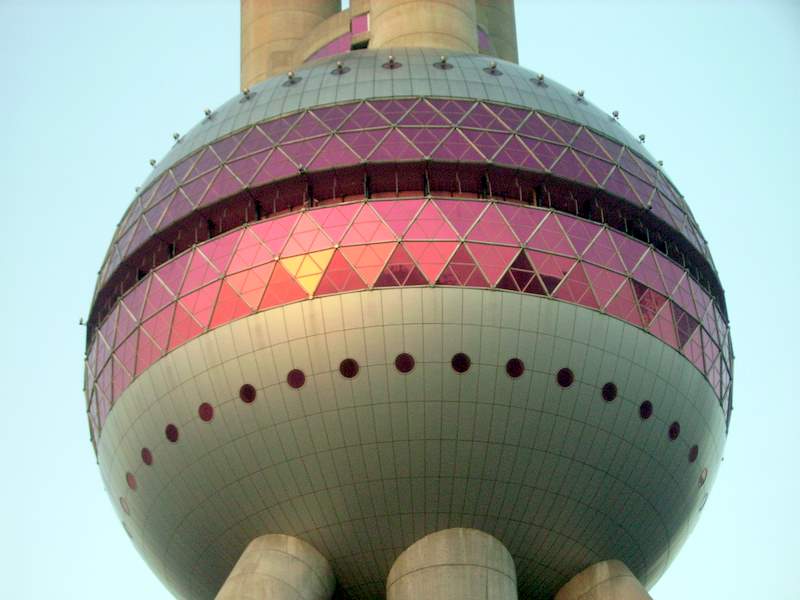 Shanghai Oriental Pearl Tower (Photo by Kari)
We sat marveling at its uniqueness along with everyone else, feeling pretty cool that we were actually viewing this world wonder, when my other son, Sam, struck up a conversation with a Netherland dude beside him. His partial mission in life was to straighten out misinformed Americans.
Well, he convinced us that, "No, that was not the 'Pearl Tower', but the one pictured below was the actual 'Pearl Tower'". He even told us about the amazing view from the top and highly recommened a visit to the observation deck.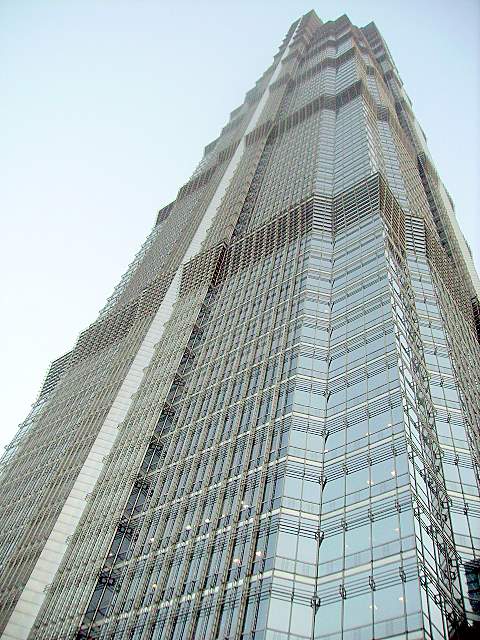 Jin Mao Building (Photo by Kari)
So....I've put off writing about Pudong, simply because of my confusion about the actual identity of these buildings....after all, this Netherland guy seemed quite convinced....but, could the whole world be wrong and one Netherlander be right? Well, yes, I suppose, but in this case, he was the one misinformed.
I don't regret our meeting him, however, we did take him up on the suggestion to cross the river and ride the elevator to the top of the Jin Mao building. (Well, I wanted to save a couple of Yuan and stayed below investigating custom made dress shirt stores while Sam and Matt enjoyed the tremendous view.)
Crossing the river was worth the trip in itself. There is an underground tunnel...conveyor belted as I recall, complete with a jazzy, psychedelic light and music show....this was no doubt to help tourists to forget any claustrophobic fears of actually being "under" a river.... (But I've been under rivers now in
London
, Norway and
Budapest
and maybe a few other places too.....the current rage....going under rivers.)
The Pudong district was spookyily quiet when we got there. I mean it was empty. I felt like I was walking around a sci-fi movie set after hours.
Understanding the house churches in China
Ordering via pictographs at a Chinese restaurant
Photo of snazzy Chinese soldiers at or near Tienanmen Square in those familiar green uniforms.
Bargains at the Great Wall of China.