South Sea Pearl Jewelry
Stunning South Sea Pearl Jewelry. The "Silver Bullet" necklace made from a gorgeous South Sea pearl of silver gently fading to light golden color.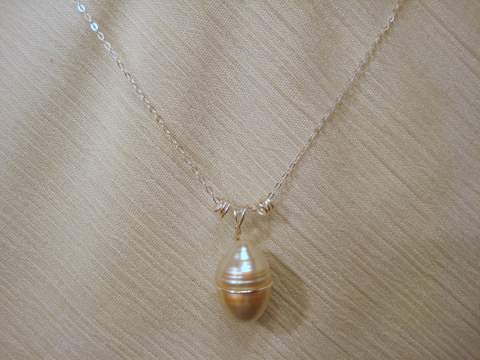 South Sea Pearl Undrilled 16.5mm X 12mm
This whopper of a cultured South Sea pearl has singular beauty and I left it in its natural undrilled state and put it in a simple sterling silver belt and hung it on a sterling silver chain.
It reminded me of a "Silver Bullet"...any hunters out there or Lone Ranger fans? If so, you may enjoy my adventures as a young gal in fire arms training.
My kids enjoy target practicing in our pasture...but then that's all a bit off topic of pearls.
I bought this pearl along with some other white South Sea pearls and golden South Sea Pearls in the Philippines which is famous for its cultured South Sea pearls. It seemed to be begging to be hung on a solitary stunning necklace of South Sea pearl jewelry.
Enjoy my variety of South Sea pearl necklaces.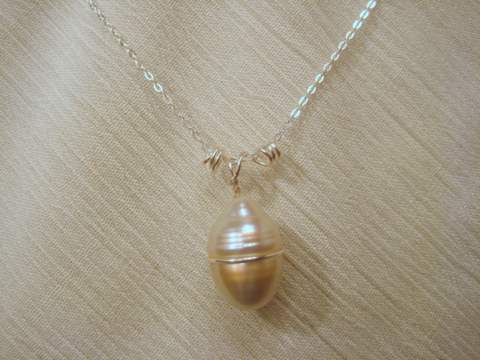 Silver Bullet South Sea Pearl
Pearl Type: Cultured South Sea
Pearl Size: 16.5mm X 12mm
Pearl Color: White & Slightly Golden
Pearl Luster: Very High
Pearl Surface: Excellent
Pearl Shape: Symmetric Baroque
Metal Type: Sterling Silver
Necklace Length: 18"
Sorry this style is no longer available.
Go to main natural pearl page after South Sea Pearl Jewelry.