Titanic was Built in Belfast 

Maybe the whole world already knows that the Titanic was built in Belfast...but I for one did not know that, so I was surprised when strolling around the streets of Belfast, North Ireland, on a Saturday afternoon that I saw this souvenir store with all these Titanic ads.
Yes, this famous ship with its disastrous ending was built in Belfast in 1912.
Titanic Souvenirs
I'm pretty squeamish about sad movies and still have not watched the entire Titanic movie made from the story. I did watch enough of it to see the lovely sapphire and diamond necklace featured in the modern movie. I saw a replica of this gorgeous necklace in Prague made out of Czech crystal...I regret not purchasing it now, as it was very affordable and sooooo pretty.

Model of Titanic Photo by Kari
Anyway, the Titanic was built in Belfast, and now is a point of interest for that city. Somewhere in the store or in some book or somewhere I've seen the last photograph of the Titanic as it was leaving the channel.
Jessie Gordon Allan, a Scottish poet, wrote a touching poem only 11 days after the Titanic sank.
I recently watched a documentary about C.S. Lewis and learned that he grew up in Belfast within the sound of the shipyards where the Titanic was built in Belfast.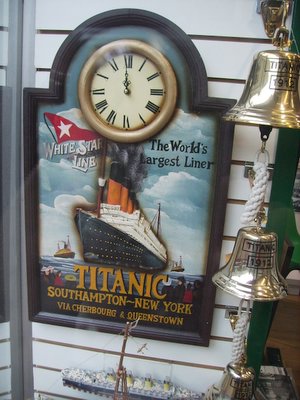 Titanic Built in Belfast Photo by Kari
Have you ever missed a plane, train, bus or some other form of transportation and felt really bad and sorry, like it was all a big mistake? I have...but after I heard the following story, I always "count my blessings" and trust that it all happened for some good reason.

Titanic Poster Photo by Kari
There was a family in Sweden who was scheduled to sail to the United States as immigrants. As fortune would have it, their train from home left late, probably after some sort of break down and delays because of time needed for repairs.
I don't know why their train was late. The late train caused them to miss their boat. I'm sure they were extremely disappointed, maybe there was not even a refund for people who missed their ocean liner and it may have taken years and their whole live savings to buy tickets for their whole family. I don't know that either, but for sure it would have been a big loss and tears were undoubtedly shed.
But imagine their amazement at being spared the catastrophic sinking of the Titanic...as that was the ship they had missed!
My brother-in-law's mother was a little girl in that family.
I've told this story many times when we're sitting on an airplane while repairs are being made, and those around me know they will miss the next connection and everything in their schedule is now confused and mixed up.
This true story has reminded me and those I share it with that yes, things happen for reasons and not to fear, maybe we're being spared for some good purpose. It is true stories like this that put life into perspective.
Attending Church in Belfast
British Flag Flies over Belfast
Encounter with Belfast Cops and Paddy Wagon
Street Preachers in the UK
Slip on over to Kari's main page after this page telling that the Titanic was built in Belfast.