Toba Japan..Center for Mikimoto Artifacts and Museum
Don't believe the Lonely Planet when it says give Toba Japan a miss....It's totally wrong. Toba Japan is FASCINATING!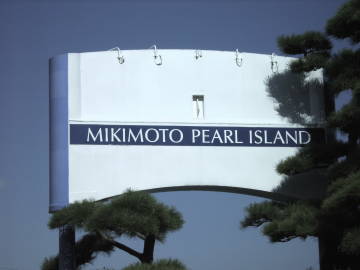 Toba, Japan, birthplace of
K. Mikimoto, of cultured pearl fame
, is the location of the island where the first cultured pearl was found.
The island is a short walk to the right as one exits the train station.
Mikimoto Pearl Island, now devoted to a memorial hall, stores, museum in K. Mikimoto's honor can easily occupy a day of your time, especially if you're interested in pearls. (Don't believe the advice in Lonely Planet...they say you can give this place a miss...not true.)
Of special interest is the Memorial Hall contains many artifacts of K. Mikimoto including his round spectacles, black "medicine" bag, bowler hat, and yes, even his rice bowls and favorite pearl necklace, aptly called,
"The Bosses String of Pearls"
for which he hand picked the pearls over a period of years.
This life size cardboard cut-out of K. Mikimoto gives one the impression he's there in person, welcoming you into his life history. His eyes and smile seemed to follow one around. I enjoyed having
my picture taken
with Mikimoto!
The
animated cartoon
, a favorite exhibit of mine, of his life story, although it was in Japanese was self-explanatory to understand.
In 1970 this covered bridge was constructed, so the ferry is no longer needed to go the short distance from shore to island. On the bridge we dodged lots of cute Japanese elementary children in their uniforms.
We arrived just in time for the Ama pearl diver demonstration and we caught a glimpse of them as they returned to from the sea on the back way to the Memorial Hall. They giggled with shyness and ran out of sight.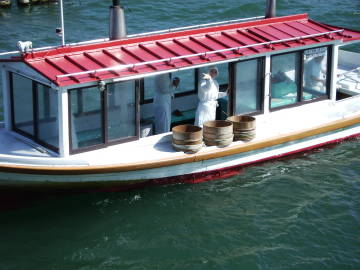 Ama Divers in Pearling Boat
A detailed education about pearls, pearl cultivation and jewelry preparation awaits one at the pearl museum.
Of course, one can purchase genuine Mikimoto souvenirs for a pretty penny or two. Or, for those with lots of pennies, a large un-mounted golden sea pearl can be purchased for only $335,000 USD....worth the visit alone to see this beauty!
Go to Kari's main page after Toba Japan.