Unusual Pearl
For Sale
This one of a kind unusual pearl comes attached to its mother giant clam shell, the Tridacna Gigas.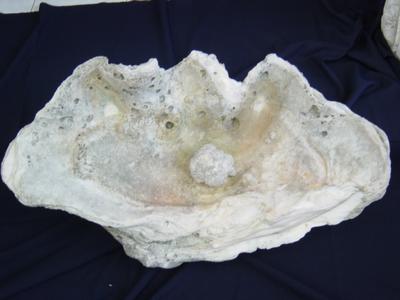 Diogelorcas Pearl
Found in 1995, South China Sea, Spratly Islands, Palawan, Philippines
This unusual pearl was formed by a giant mollusk commonly called "taklobo" with a scientific name "Tridacna gigas". The size of the blister pearl is 4.00 inches in diameter and 3.75 inches in height. The mother shell where the blister pearl is naturally attached is 33 inches in length, 18 inches in width and 8 inches in thickness. The color of the blister pearl is crystal like white-ivory.
The blister pearl itself is slightly fossilized with skin-deep corrosion. But its luster and brilliance can be scientifically restored because it is hard, sturdy and solid. The mother shell's concave part is likewise slightly fossilized. However, fossilization near the brim and at the convex portion of the mother shell is at the advance stage already.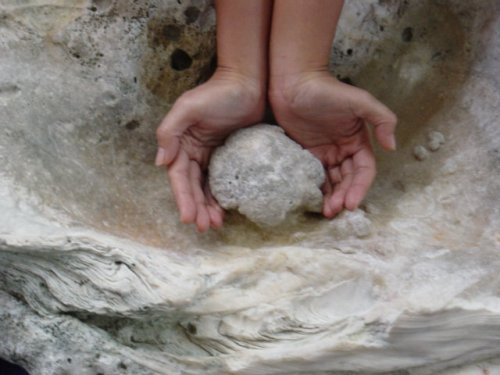 Diogelocas Pearl
A Rare Museum Centerpiece
This unusual pearl has an exotic appearance that can magnetize attention because of its hard crystal like quality, rare size and beauty. There is no other pearl like this known to man today. (And if there is, please contact us below.) If properly restored, mounted, or even left in its current state, it will indeed be a highly rare museum centerpiece that can attract attention of people around the world. It's hard to talk about value because it's the only one known of its kind.
Diogelocas Pearl
This large blister pearl was formed by the same kind of mollusk (Tridacna gigas) that produced the largest pearl on record called the "Pearl of Lao-tze" or "Pearl of Allah," that was found in Palawan Sea in 1934 now valued at US$50,000,000.00 or more and as featured in the 1994 edition of the Guinness Book of World Records.
Maybe the Giogelocas Pearl can also be listed in the Guinness Book of World Records.
Whoever would buy this blister pearl can claim the exclusive rights to it.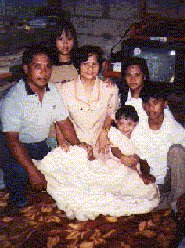 Diogelocas Pearl
A Status Symbol Befitting a King
This magnificent blister pearl looks exactly the same as King Neptune's "Enchanted Royal Pearl" in his throne in the Atlantis movie and paintings surrounded by beautiful mermaids as if begging luster and splendor from it.
A great man with equally kingly stature is fit to own this rarest of gems. It's like a status symbol of virtue, wisdom and wealth, like a scepter or a crown of a king.
Diogelocas Pearl
A Significant Archaeological Piece
This aged blister pearl was found in an eroded part of an isolated island in the middle of South China Sea known as "Pag-asa" at Spratly Islands, Palawan, Philippines. The mollusk itself was believe to have lived for not less than 5 centuries. Added to this is the possibility that the mollusk, being by nature stationary, may have been naturally buried centries ago by the expanding island where it was found, which explains its slight fossilized appearance. What is amazing, however, is that the blister pearl and the inner part of the mother shell have remained intact.
Naming the Pearl
Diogelocas is a name created from the first two or three letters from each of the two names of the married couple who are the owners.
I, Kari, find things like that interesting and was glad to find out how the name was developed.
You are invited to share your comments about this unusual pearl which is named Diogelocas Pearl here.
See another giant blister pearl from the Tridacna Gigas clam.
And yet another monster pearl from the giant clam.