Running Pearl Pig
Pearl pig...pearls before swine? No, this swine is a pearl! Enjoy viewing this whimsical running pearl pig made from a large cultured baroque South Sea gem.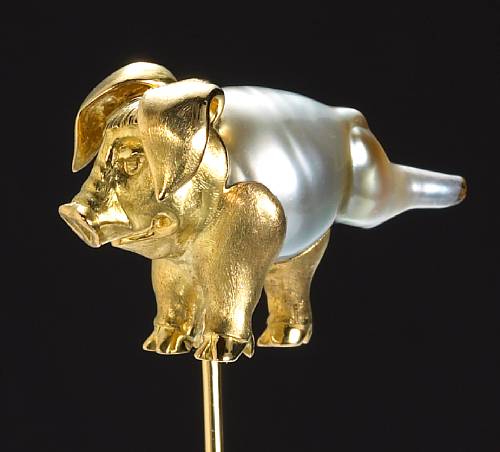 Running Pig
I love objects made from unique pearls. I especially enjoyed the pearl ornament display at the British Museum in London.
Baroque Pearl Stick Pin—"Running Pig"
By Manfred Wild
Idar-Oberstein, Germany
Another whimsical creation, inspired the natural shaped of the large baroque cultured South Seas pearl, length 22mm, around which it is centered. Its natural "flange" or "wing" was used to depict the outstretched leg of the "running pig", mounted in 18K yellow gold, signed.
View more creative objects by Manfred Wild.
Pearl Spider
Pearl Kiwi Bird
The city of Idar-Oberstein, Germany, is famous for its gems and jewelry making. Years ago we visited friends there and the hostess gave me a gorgeous letter opener with a handle made from a large agate.
I also found a geode type rock in Idar-Oberstein and still have it waiting in my jewelry box for the right person to saw it open to hopefully reveal a treasure.
And speaking of agates, I find lots of small ones here in Muscatine, Iowa. Someday I hope to incorporate them into some of my jewelry designs.
Photos and text used with permission from Claudia Florins, director, Bonhams & Butterfields.