Pearl Spider Captures a Golden Fly on Amethyst
This pearl spider and golden fly were up for auction recently in Los Angeles, California, at a Bonhams & Butterfield auction house on Sunset Blvd.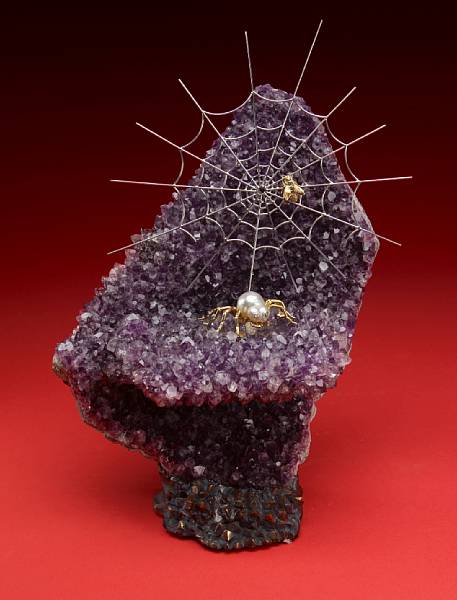 Spider with Golden Fly on Amethyst
Amethyst Stalactite with Two Detachable Brooches
"The Spider and The Fly"
By Manfred Wild
Idar-Oberstein, Germany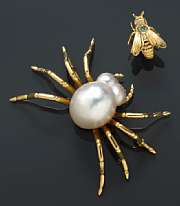 Spider made of a Pearl
A section of an amethyst stalactite having an unusual "shelf" formation forms the "stage" upon which the drama between a spider and his prey is played. Festooned with a large cobweb, fabricated of 18K white gold, the 18K yellow gold fly (a removable tie pin) is entrapped. His body is set with one circular-cut green diamond, weighing approximately 0.07 carats and two colorless diamonds, weighing 0.02 carats, length 1.25 in. The body of the spider is formed of a triple conjoined South Seas cultured pearl weighing approximately 22.90 carats and measuring 18.0 x 12.0 x 14.0mm. Exhibiting rosé overtones and superb luster, it is bezel-set in 18K yellow gold with two diamonds, weighing approximately 0.02 carats., Raised upon a custom-made base cast of bronze, signed M. Wild.
Height 9.5 in
Photos and text used with permission from Claudia Florins, director, Bonhams & Butterfields.
See more photos of pearls after pearl spider.
Purchase Kari's Pearls
Pink Pearls*Lavender Pearls* Black Pearls* Baby Bracelets
Drop Pearl Necklaces
Bridesmaid Jewelry*Child Pearls* Peach Pearls* White Pearls
KariPearls Gift Certificates