Pearls on the Shell
Isn't this Pearl Statue from Doha, Qatar a great pearls on the shell photo?
I love it. I have now seen this in person and taken my own photos of it. You may purchase this poster by clicking on the link below the image.

I'd barely heard of Qatar until a couple of years ago when my daughter, Sarah, and I enjoyed some lively conversation at Heathrow airport at London, with an English couple who do business in Qatar....with a Prince of Qatar!
I'll also tell about the history of pearling in Qatar as well as display my own photos and another poster.
Pearling History of Qatar
In 2100-1700 BC, Dilmun with 2,000-4,000 people was a major city. During these years pearl diving began in Qatar.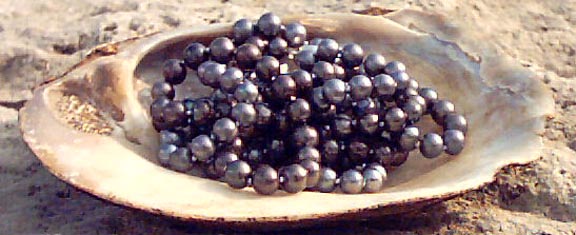 Black pearls in shell by Mississippi River--click to purchase pearls


In the 3rd century AD, Qatar was under Persian control under Sassanids of Arabian Gulf.
They ruled for four centuries and the pearl-trading center developed in Qatar at this time.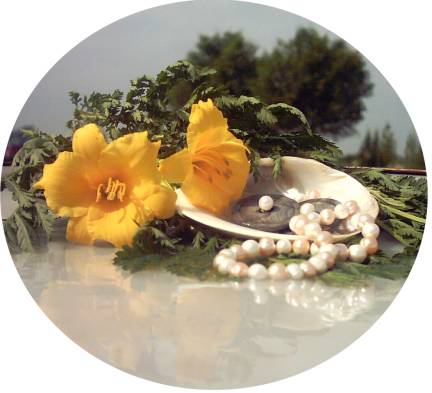 Pink and white pearls on shell...click photo to purchase these pearls.


From Kuwait, where fishing and pearly were prevalent, the nomadic bedouins, the Bani Utub, moved to the northwest coast of Qatar peninsula and established Zubarah which became an important pearly center.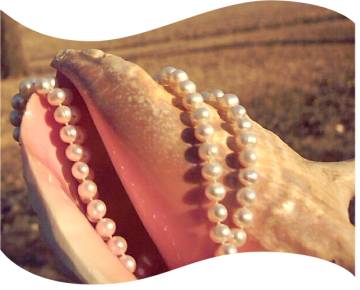 Freshwater pearls on Conch shell..click photo to purchase these pearls.
Al Jalahima and Al Khalifa moved to Qatar.
The Al Khalifa family was responsible for the pearling trade and this family still has influence in Bahrain today.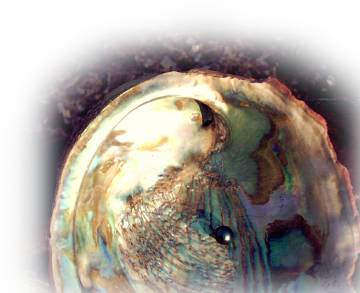 Tahitian Pearl on Abalone Shell..click photo to purchase pearl
Until the late 1930's two main families who made their living through trade, pearling and smuggling were the Darwish and Al Mana.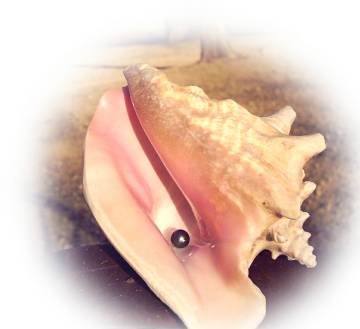 Tahitian Pearl on Conch Shell..click to purchase pearl
Darwish monopoly was weakened in 1956 by strikes.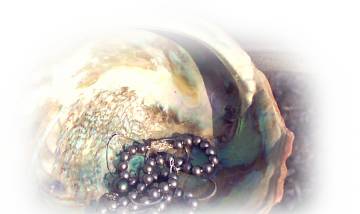 Freshwater pearls on the shell (Abalone)...click photo to purchase pearls.
In Qatar, a nahham was hired on a pearl boat crew. He was to sing as others clapped and beat drums. This kept the crew's moral up during dangerous trips.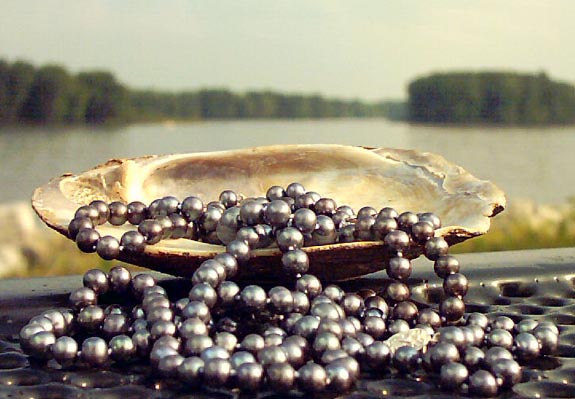 Freshwater tumbling pearls on the shell in front of Mississippi River..click on photo to purchase pearls.





Before the discovery of oil in Qatar, some made their living from diving for pearls, although the pearl industry is practically non-exsistent today.

If you liked this page about Pearls on the Shell, you may also enjoy my Roses and Pearls page.
Search here.