Canada Pearls
Canada pearls have bave been found in the river mussels, and especially in those from the Province of Quebec and in the Ungava Region.


The following info is from Kunz & Stevenson and was first published in 1908. Check with local authorities before obtaining natural pearls in Canada today.
Canada pearls are unusually white and of good luster. They are not the object of systematic search, but in the aggregate many are secured by Indians and Eskimos, and some by the trappers and fishermen who operate from Quebec and Montreal. A number of Canada pearls, weighing form one to sixty-five grains each, were shown at the Colonial Exhibition in London in 1886, and received favorable notice. Recently, two beautifully matched pink pearls, weighing about fourteen grains each, were obtained from one mussel. A single pearl found in Canada has sold for $1,000, but as a general rule they are of relatively little value. The Hudson Bay traders are represented as having secured a fair share of these pearls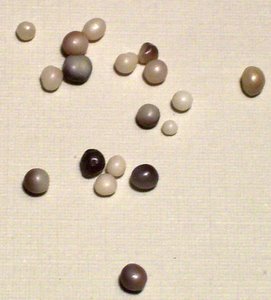 Saltwater Blue Mussel Pearls from New Brunswick
During the last few years, many pearls have been found in the streams of Prince Edward Island and of New Brunswick Province, and also in those of Nova Scotia. Most of them are well formed, but their color is generally inferior and their luster deficient. Many of them are buff or brown in color, some are bright and fairly good, a few are rose-tinted, and others are slate-colored and even almost black.
Toronto jewelers report that many Canadian pearls are in the possession of farmers and others in the lower provinces, held by them for higher prices than the jewelers are willing to pay. The Nova Scotia pearls are from a bivalve which has been identified as Alasmodon Margaritifera. They are especially abundant in Annapolis and King counties.
Even in the streams of northern Labrador and of the Caniapuscaw watershed, pearls are obtained by the natives, and by the hunters and fishermen who resort to that desolate country. These closely resemble the pearls of Scotland in color, size, and luster.
A story is told of a fisherman who by chance found in one shell two well-matched pearls, which he later sold for $150; so pleased was he with his success that he spent a fortnight in diligent search, but secured only half a dozen small ones, worth perhaps $3 for the lot. Most of these pearls are silvery white, but beautiful pink ones are not rare. An unusually choice 20-grain pearl from this region sold in 1905 for $1,000.
Saltwater blue mussel pearls from New Brunswick.
Find out where else natural pearls are found after reading about Canada pearls.
Have You Had the Joy of Finding a Pearl?
I LOVE hearing about finding a pearl! Natural pearls are my favorites and there is such a thrill when finding a pearl.

They can be found anywhere there are mollusks. I once found one while eating oysters. Sure, some are valuable and some are not...but they all are special...especially to the one who found it.

Tell us all about finding a pearl and be sure to include a photo. Give us all the juicy details, where, when, how, why, and what you've decided to do with it, like maybe you've put it into a ring or just a neat little box to show all your friends.


What Other Visitors Have Said
Click below to see contributions from other visitors to this page...

Free Newsletter all about Pearls!
Search here.