Natural Abalone Pearls
Beauty Beyond Compare!
Diving for natural abalone pearls is more than a hobby for some people, it is a passion, and after finding one abalone pearl an abalone diver could be easily "hooked".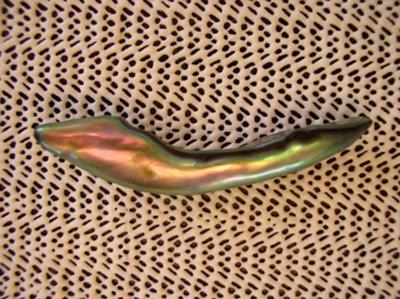 Jim's 65 carat Abalone Pearl
The images of natural abalone pearls on this page are a few of those found by readers of my website. Click on the link below each photo to learn more about them or to comment on these pearls. Aren't they gorgeous? If you have ever found an abalone pearl I invite you to share your story and photo here.
The following information about abalone pearls is from a book published in 1908, so keep that in mind as you read this as prices and situations have changed.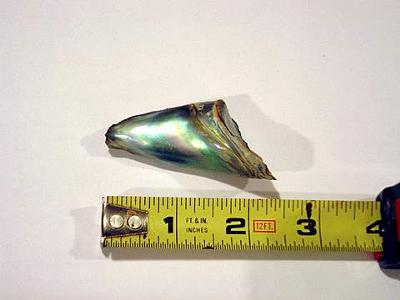 DJT's 2 Inch Abalone Pearl
Not the least interesting of the American pearl fisheries is that which has the abalones (Haliotis) for its object. These occur in many inshore tropical and semi-tropical waters, and particular in the marginal waters of the Pacific. They attach themselves to the rocks by means of their large muscular disk-shaped foot, which acts like a sucker or an exhaust cup.
One the California coast the abalones are gathered in large quantities for the natural abalone pearls, for the shells, and especially for the flesh, which is dried and used for food.

New Zealand Natural Abalone Pearls
The principal fishing grounds are at Point Lobos in Monterey County, and along the shores of Catalina and Santa Rosa islands in Santa Barbara County, with smaller quantities form Half-moon Bay and from the rocks along the shores of Mendocino Country.

One of Lou's Abalone Pearls
At half tide the fishermen wade out in shallow water, and, by means of a knife, separate the mollusk from its resting lace. Unless this is done quickly and before the mollusk has time to prepare itself for the attack, it closes down on the rock by means of its sucker like foot, form which it cannot be removed without breaking the shell. A story is told at Santa Barbara of a Chinese fisherman having been drowned off one of the outer islands by having his hand caught underneath the shell of an abalone.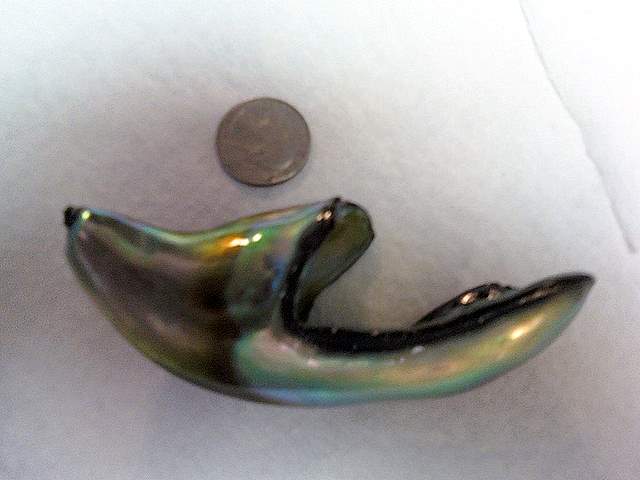 Whopper 400 carat Abalone Pearl
A few years ago, Japanese fishermen introduced the use of diving suits in taking these mollusks in three fathoms of water; but in March, 1907, the California legislature interdicted the form of fishery. That "less than twelve inches around the outer edge of the shell, or any other abalone, the shell of which shall measure less than fifteen inches around the outer edge."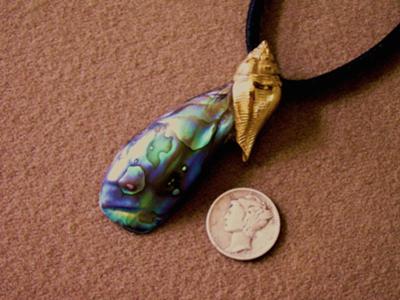 52 Carat Abalone Pearl Necklace
The animal is removed from the shell by thrusting a thin blade of soft steel between the flesh and the shell, and thus loosening the great muscle. The flesh is salted and boiled, and the strung on long rods to dry in the open air. When properly cured, the pieces are almost as hard and stiff as sole leather. Most of it is packed in sacks and exported to China, but large quantities are sold on the Pacific coast at from five to ten cents per pound. The catch is much less than it was forty years ago.
Many pearly masses are obtained form the abalones, and a few of these are of considerable beauty. Some of these natural abalone pearls are very large, measuring two inches in length and half an inch or more in width; but they are rarely of good form, and their value is commonly far less than that of choice Oriental pearls. Owing to their irregularity in form, they are scarcely suitable for necklaces. One of the best necklaces of these pearls ever brought together sold a few years ago for $2000; but individual specimens have exceeded $1,000 in market value.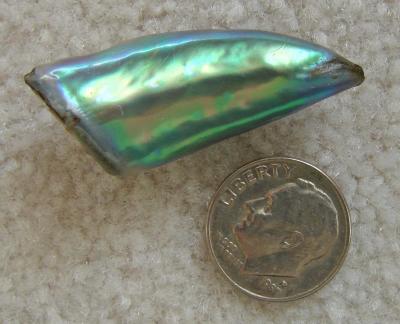 Vince Vabris Abalone Pearl
While abalone pearls are not on the market in any great quantities, one resident of Santa Barbara has a collection of more than a thousand specimens, ranging in value form several hundred dollars to less than one dollar each. Most of the objects sold in curio and jewelry stores on the Pacific coast as abalone pearls are simply irregular knots or protuberances cut from the surface of the shell. The Californian fishermen are credited with having received $3,000 for the abalone pearls in 1904; but it is safe to say that this represent only a small fraction of their final sale value.
Paua or pāua is the Māori name given and used in New Zealand to three species of large edible sea snails, marine gastropod molluscs which belong to the family Haliotidae (genus Haliotis), known in the USA as abalone, and in the UK as ormer shells.
Paua is also known as "Sea Opal".

Find more extensive information about natural abalone pearls here.
You may also enjoy this video of a wild red abalone pearl.
Enjoy five pages about my friend, Roger Beattie's cultured abalone pearl farms here.
Please be sure to follow your local and current abalone gathering rules. This keeps it safe and happy for everyone. It's very sad to me when I read of abalone poachers. Also...be careful! I don't like to read about divers drowning.