UK Adventure

Like on this UK adventure, has God ever given you direction through numbers? It's fun to uncover the hidden meaning and then go.
Numbers in the Night
God gave me some numbers in the night and I knew I had to obey Him...once I discovered the meaning. The numbers were: 44-9-14. I figured out their meaning quickly because of previous mystery numbers He'd given me. 44 is the phone code for the UK and 9-14 is for September 14. So I arrived on September 14 in London.
Buzzing Around London on UK Adventure
I stayed with a friend's mom in Hackney where she and her son own a Cartridge World store.
Antonia is from Nigeria and made me interesting Nigerian food. It took about 1 hour to get into London itself...but I went there every day and visited museums and exhibits about pearls mostly, taking lots of photos and now I'm adding them to my
pearl website
little by little. There's so much to see and do in London. The buses are pretty easy to figure out and I enjoyed snapping photos of things, like Harvey Nichols out the window. Also, I did TONS of walking and came back weighing less than when I left.
One fun thing in London was picking up
artifacts along the River Thames
...pieces of pottery, hand forged nails, roof tiles, petrified bones and shells...things from the 14-18th centuries. People have lived in London for 4,000 years...and still tons of stuff is there to be found. The most fun things were pieces of clay pipes from the 16th century. Apparently, they would be purchased full of tobacco and then thrown away when smoked. I could stand in one place and pick up 6 pieces about 1.5" long of pipe. I plan on using them in my jewelry sometime.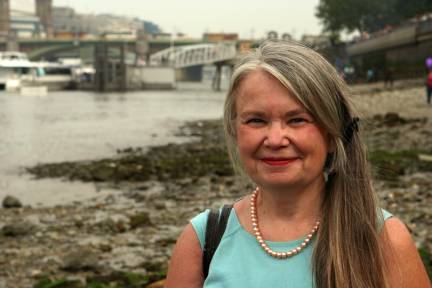 Kari on Thames River UK Adventure
I could have stayed there ALL DAY....and I'd love to go back and get more stuff....but whatever would I do with it anyway? There's one man who sells his stuff on Ebay. My brother Mike would have especially enjoy this. I brought back a bag of "stuff" including a piece of flint for Mike...it was everywhere on the shore of the Thames.
They don't care if you take home what you find.
Exploring Cardiff, Wales on UK Adventure
From London I took a bus to Cardiff, Wales and spent the night. The
Cardiff castle
had been redecorated about 100 years ago by a rich family whose descendants donated it to the city in the 40's. Pretty fantastic place. They had a live grapevine growing in the middle of the dining room table and all sorts of oddities and extravagances. The heaters in the vast library were disguised as library tables. Inside the castle walls was a huge man made hill with another castle built on top. Hard to imagine anyone having so much money. All around the castle walls were statues of different animals like they were hanging over the wall.
Cardiff Castle Panther
I spent the night in a cheap crowded hostel and Saturday nights in Cardiff are "wild"....I could hardly sleep...very noisy outside with parties and laughing and goings on.
In the morning I visited a Pentecostal church not far from the hostel. It was much like our church with similar songs and worship. The ages were varied...several elderly and several young people. I would probably attend there if I lived near Cardiff.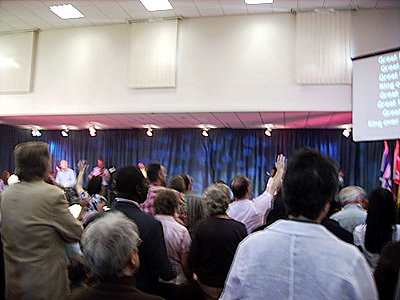 Cardiff Pentecostal Church
Museums in the Midlands on UK Adventure
Then on to the midlands of England to Derby and Birmingham where I enjoyed seeing two neat museums, one of a
house from the Georgian period
and one of a jewelry factory "time capsule", which had been stopped in the 50's and left just as it was...then opened as a museum. The factory had been operating for about 100 years and they still used the old methods for almost everything, but they had purchased a typewriter. Otherwise everything was done the "old way." The owners went to great extent to capture any gold dust from the saws and drills...even filtered out the water from the basin. No employees could wear cuffs on their pants or even brill cream in their hair because they could rub their hands through their hair and take home gold dust.
Fast Flowing Rivers in Scotland on UK Adventure
Scotland was next and I saw a
famous pearl
in a shop there in Perth. I really enjoyed staying in a Bed & Breakfast there and walking around this place, filming the fast flowing
River Tay
, visiting the museum, etc.
River Tay - Photo by Kari
I found some vintage wool blankets in a charity shop and mailed them home. Before I even paid for them the clerk suggested I take them to the post office and see how much they'd cost to send. I actually sent them and then went back to pay for them. Pretty trusting people. I'm really interested in wool things because of our own sheep's wool.
(Right now, I'm wearing some hand-knit wool socks from Romania that Ethan brought home from there.)
Ferrying to North Ireland on UK Adventure
In sort of a round about way I made it to
North Ireland
. There was some confusion about the 7-day pass I bought because apparently not many people buy them, so most bus people didn't know what to do with them. Because of this, I was sent back to England and then back to Scotland and then finally to North Ireland. Oh well....I always meet interesting people so it's okay to spend an extra day on the bus.
We took a ferry and arrived late in Belfast (where the
Titanic was build
, by the way)...and Belfast was full...there was almost "no room at the inn" for me. I roamed around trying to find a B&B or something, but it was getting very late, past midnight and things were bleak. Soon a police "paddy wagon" stopped and asked what I was doing? They said they could take me to the station and help me find a place to stay. Very kind. It was also fun to ride in a
"paddy wagon"
, with two little rows of bench seats. They made about 40 phone calls with no luck. I thought I might get to spend the night in a cell on this UK adventure...which would add greatly to my story about the ride in the paddy wagon. BUT, finally, they found a room for $160! Yikes! Pretty high. They asked what I thought and I said, "That's a lot of money for a room." They agreed and kept phoning. Then they located a B&B with an empty room for only $56...a much better price. So....back into the paddy wagon and off to the B&B. I gave them a hand full of pearl rings I'd brought with me and they were thrilled.
The next day I visited a
church that meets on Saturdays
. I spent three hours there and enjoyed their fellowship and even took part in a foot-washing.
Dublin Street Musicians after UK Adventure
So, I enjoyed exploring Belfast...and then off to Dublin, Ireland, which technically isn't part of the U.K. I loved taking buses because I could see the very green countryside with sheep and many old stone ruins...just like in the movies.
Again, in Dublin, I stayed in a hostel, but it wasn't crowded. The big room for 8 only had 2 of us. My room mate was very friendly and even loaned me her cell phone alarm so I could wake up early. Dublin was busy, busy and I visited lots of jewelry stores to look at pearls. When I'm gone from home for lots of days, I'm always glad to see a McDonald's and eat a Big Mac...comfort food I guess. Once, a drunken lady came and joined me and we had quite a conversation. She was not poor...but very destitute.
Dragging Myself Around Paris after UK Adventure
I flew to Paris and stayed two nights near the Louvre Museum. I have a friend near Paris, but I couldn't reach her by phone and lacked the energy to keep trying. Fortunately, I found a low price place...pretty simple, but in a good location. In Dublin I started to get sick with a bad cold, and was so weak and tired by the time I got to Paris that I went to bed at 6:30 both nights and I could hardly drag myself around Paris...but did go to the huge
Louvre Museum
and see some pearls. Also, at some nearby antique shops pearls were sold. It takes the fun out of sightseeing, however, if one is not well.
Back Home after UK Adventure
So now we're home...all of us today. Anna's making supper and setting the table. Andrew and Matt are welding. John's sleeping after a long day at school. Sarah and Ethan took a trip to Iowa City to drop off Ethan's books. Sam is somewhere around here. Mark's on a walk. I'm on one of our red leather couches writing on my laptop.
Tonight we'll go to pray at church and then come home and maybe watch a mystery DVD...who knows....or sit around and talk.
We're selling all of our available sheep and could sell more, but there's just so much room on our farm, so need to set a limit. Mostly foreigners, who love lamb, come and buy them.
We have two huge boxes of lovely tanned sheepskins…all sorts of possibilities.
I get up early before the sun, normally, to work on my websites. Not just
mine
, but
Mark's
and also Greta, my Norwegian cousin, calls and I help her. She knows I'll be there at the computer early so she calls and we work together. She has a super site about
Norway
and is adding lots of recipes that people are using. It's pretty neat that we ladies can be learning so much together.
I loved swimming in our pond every day this summer. I love to swim....just slow and steady but for a long time, at least one hour. It was a good year for fun in the pond with most everyone enjoying jumping off the long rope swing.
Everywhere I went on this UK adventure I had the joy of encountering
street preachers
. These brave souls totally inspired me! Three cheers to UK adventure street preachers!!!
See where else my "numbers in the night" have taken me after UK adventure.